Silver Prices Erase 2017 Gain as Comex Bulls Retreat Fastest Ever Before Fed Rate Hike, CBOE Bitcoin Launch
Monday, 12/11/2017 14:35
SILVER PRICES failed to follow a small bounce in gold bullion Monday morning in London, holding unchanged versus the US Dollar from New Year 2017 as gold held $100 per ounce higher from January 1st ahead of this week's long-anticipated US Federal Reserve decision on interest rates.
With
silver prices slipping
towards last week's new 5-month lows beneath $15.70 per ounce, world stock markets rose with commodities and major government bonds.
Gold bullion rose $3 only to slip $1 below last week's finish at $1248.50.
This week brings 20 central bank decisions, with the US Federal Reserve's widely-expected interest rate hike on Wednesday followed the next day by votes from the UK's Bank of England and the European Central Bank in Frankfurt.
"We expect to see the classic 'buy the rumour, sell the fact' type of USD reaction" to the Fed decision, says a forex note from Dutch bank ING, pointing to what it calls "greater downside risks" for the Dollar thanks to the "dovish tones emerging" from US data.
"Friday's job report highlighted why we still favour gold in 2018," says a note from Canadian brokerage TD Securities, "[because]
persistent weak wage inflation
should prevent the Fed from getting overly hawkish, thus keeping real rates low and the curve flat.
"Large deficits from [President Trump's] proposed fiscal stimulus should also bode well for precious metals."
Betting on this week's Fed decision now sees a 90% certainty of the US central bank raising its key interest rate to a ceiling of 1.50%.
The other 10% predicts a shock hike of half-a-point to 1.75%, says data from futures exchange the CME Group.
Looking one year ahead, almost 1-in-4 bets on November 2018 Fed funds futures now forecasts 3 or more rate hikes coming next year, more than double the level of this time last month.
Betting on precious metals prices in contrast turned sharply lower last week, new data from US regulator the CFTC showed Friday, with hedge funds and other 'Managed Money' traders cutting their bullish position on Comex gold futures and options by almost one third to a 17-week low net of that same group's bearish bets.
The 'Managed Money' category's net long position on Comex silver derivatives sank faster still, down 61% to a 19-week low and falling by the largest number of contracts since this data series began in 2006.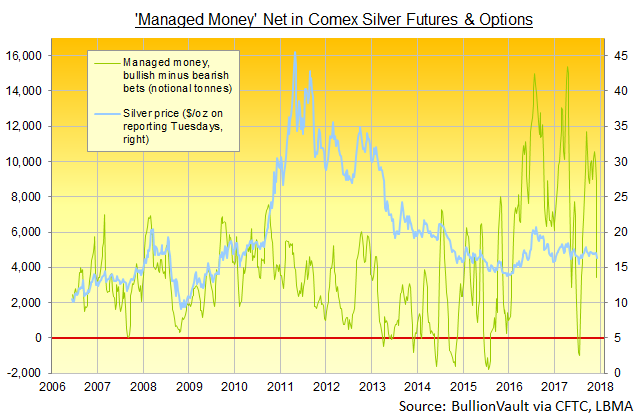 "Given that the gold price has fallen further" since last Tuesday's reporting data, "net long positions are also likely to have been further reduced," says the commodities team at German financial services provider Commerzbank today.
Looking at silver, "Our dry powder analysis shows that the market is left with little speculative ammunition to pull prices lower on the short term," says analysis from French investment bank Societe Generale.
"Fundamentals on the other hand remain a headwind on longer horizons," say the SocGen analysts, noting that silver prices are "highly correlated to gold" and repeating their economist colleagues' forecast of three 2018 – likely to "weigh on investors' appetite" for precious metals.
"Though gold could bounce higher in the near term as investors 'buy the fact' of a Fed hike," agrees Jonathan Butler, strategist at Japanese conglomerate Mitsubishi, "the outlook for rate rises going into next year will be of arguably greater interest for precious metals."
Wednesday's decision will be accompanied by new Fed member forecasts on GDP, inflation and rates, but few analysts expect "major changes to policy ahead of the new Fed Chair Jerome Powell taking up his role" in February, says Butler.
"Dovish language or any caution on the future pace of interest rate hikes would give some support to gold and precious."