Silver Bars Imports Jump to China + India, Gold Picture Mixed
Thursday, 10/05/2017 12:26
Silver bullion bars inflow surges to world's top 2 gold consumer nations...
IMPORTS of silver bars to China and India have leapt according to official data, contrasting with a mixed picture for gold.
Gold consumer demand is struggling in India – formerly the metal's No.1 market – yet imports of the metal have risen sharply from 2016's multi-year low,
growing by one-third
in the first half of the year, and jumping further over the summer as traders took advantage of lower duty rates on
shipments from South Korea and Indonesia
.
"China has [also] been importing noticeably more silver for several months now, unlike gold," says a note from commodity analysts at Germany's Commerzbank. They report data showing year-to-date imports of silver bars and other items rising 48% from the first 8 months of 2016, with a 68% rise in August alone.
In contrast, gold imports that month through Hong Kong – the
only official route until 2014
for bullion shipments into what has since become the world's No.1 consumer nation – recorded a near-2017 low Commerzbank says, and "confirmed the current weak gold demand in China."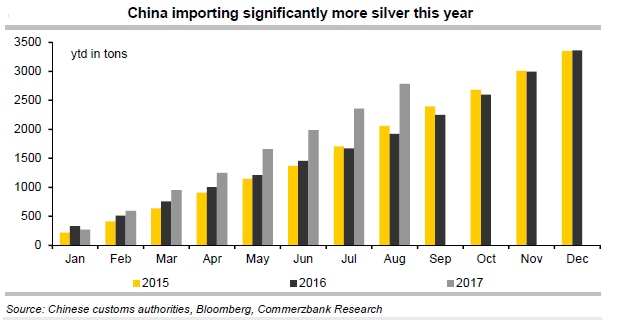 Swiss trade data show gold exports to Hong Kong from the world's major refining center slipping by nearly one-tenth in the first 8 months of 2017 compared with the same period last year.
Direct exports, however, from Switzerland to mainland China have grown by 5%, keeping the joint total little changed year-to-date at 366 tonnes, only just below the 372 tonnes exported to the two locations between January and August 2016.
India's household
gold demand has recently halved
from typical autumn levels, retailers report, as higher taxes and new financial rules deter people from buying despite this month's key Diwali festival.
"In addition to purchases in the form of jewelry, Ganesha, Lakshmi idols, coins and bars, corporate gift items of silver and also silverware
[all] have high demand
," agrees a retailer in Ahmedabad.
"Therefore, stockists procure in hefty quantities." said Manoj Soni, a city-based jeweller.
While industrial use accounts for 45% of global silver end-use each year, it drives only 20-25% of Indian demand, said
a new report from specialist analysts Metals Focus
for the Washington-based Silver Institute of miners, refiners and users last month.
Looking at household demand, "the key drivers across all three segments – jewelry, silverware and physical investment – are the Rupee silver price and income growth. [So] it is not surprising to see that the fall in silver prices between 2012 and 2015 saw a massive expansion of local demand."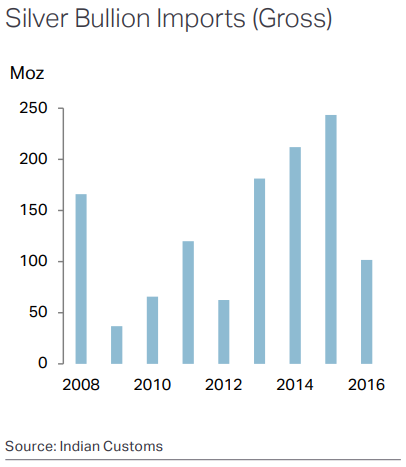 India's gross silver imports sank in 2016 to a 4-year low as prices rallied, falling over 60% by weight from the record peak of 2015 when low prices plus government action to cut gold imports saw India's silver investment demand surge to 3,400 tonnes on Metals Focus' data – almost one-tenth of all global end-use for the metal.