'Recovery Candidate' Platinum Sinks to New 9-Month Low as Gold, Silver Stall Before 'Taper or Wait' US Inflation Data
Monday, 9/13/2021 14:08
PLATINUM PRICES hit 9-month lows on Monday after experts predicted a supply surplus for the industrial-precious metal in 2021, while gold and silver prices remained subdued ahead of tomorrow's US inflation data, writes Atsuko Whitehouse at BullionVault.
Platinum's industrial uses
account for two-thirds of its demand, led by auto-catalysts in diesel engine systems. The metal fell 0.6% to $955 per ounce Monday morning, its lowest level since December 2020.
Gold meanwhile edged higher by 0.1% to $1789 per ounce and silver – like platinum, also primarily an industrial metal – edged lower by 0.2% to $23.70.
Tuesday's US consumer price data will come after US producer prices showed a strong rise for August, leading to the sharpest annual inflation in nearly 11 years.
"If the CPI is hotter than expected, it could make the difference between a September announcement for
tapering or waiting
to November," reckons one investment manager talking to CNBC.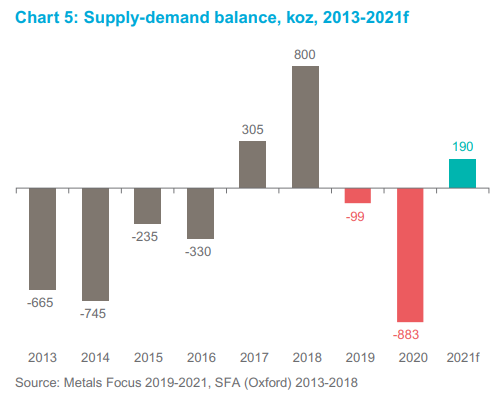 The roughly 8 million ounce a year market will be oversupplied by 190,000 ounces in 2021, the WPIC said.
In its last quarterly report in May, it predicted a shortfall of 158,000 ounces, which would have been the third consecutive year of undersupply.
"There's been notable weakness in PGMs with platinum seemingly happy below $1000," said a trading note from Swiss refining and finance group MKS Pamp earlier.
"There is no or very limited auto demand due to the chip shortage clearly more severe than markets anticipated," the note explained one of the important developments driving recent price action.
China's vehicle sales slid 17.8% in August from a year earlier, falling for a fourth consecutive month, as the world's biggest car market was hard hit by a global shortage of semiconductors.
"The China Association of Automobile Manufacturers now
expects 2021 growth to be slower
than a previously forecast 6.5%," said Chen Shihua, a senior official at CAAM last Week.
Platinum is predominantly used in auto-catalysts in diesel vehicles, with palladium principally used in gasoline vehicles. However, this
usage is shifting
according to a growing number of analysts, with substitution of palladium for platinum occurring due to sustained palladium deficits and the high price of palladium.
Palladium prices dropped Monday to the lowest level since August 2020 after falling through what some traders called a key support level at $2200 per ounce last week.
"Platinum remains in our view
a potential strong recovery candidate
," says derivatives platform Saxo Bank's commodity strategist Ole Hansen, "not only due to switching [from palladium to platinum in autocats] but also its relative cheapness to gold, which reached an 8-month high at $820 this past week."
Historically platinum used to show a premium above gold, as it is around 30 times as rare, but it flipped to a discount in 2015 as the Volkswagen diesel scandal hit.
Since then, platinum has traded at a discount to gold and the 10-year average is $290 and the 5-year average is $531.
"While we have revised our forecast to a modest surplus in 2021," says Paul Wilson, CEO of WPIC, "this should be considered within the context of the unprecedented and seismic change caused by the pandemic.
"Demand growth appears likely due to higher loadings and rising production of heavy-duty vehicles,
increasing platinum substitution
for palladium, industrial demand growth and growing investor interest in the burgeoning hydrogen economy."
The Dollar Index – a measure of the US currency's value versus its major peers – meantime extended its first winning week in three, rising 0.2% Monday lunch time in London.
The benchmark US 10-year Treasury yield firmed at 1.33% after rising last session ahead of tomorrow's inflation figure.
Consensus forecasts expect CPI to rise at a 0.4% monthly pace and 5.3% annually, just below
June's 30-year record
.