How to Say 'I Love You' with $26 Billion
Friday, 2/17/2023 09:01
Big Valentine's Day and luxury goods sales expected in 2023...
LUXURY GOODS retailers were headed for a strong Valentine's sales season if estimates prove accurate, says Frank Holmes at US Global Investors.
According to the National Retail Federation (NRF), consumer spending in the US may have reached as high as $25.9 billion this year on Valentine's Day gifts ranging from gold jewelry to clothes to fine chocolates.
That would make 2023 the second-best year for sales since the NRF began tracking this data.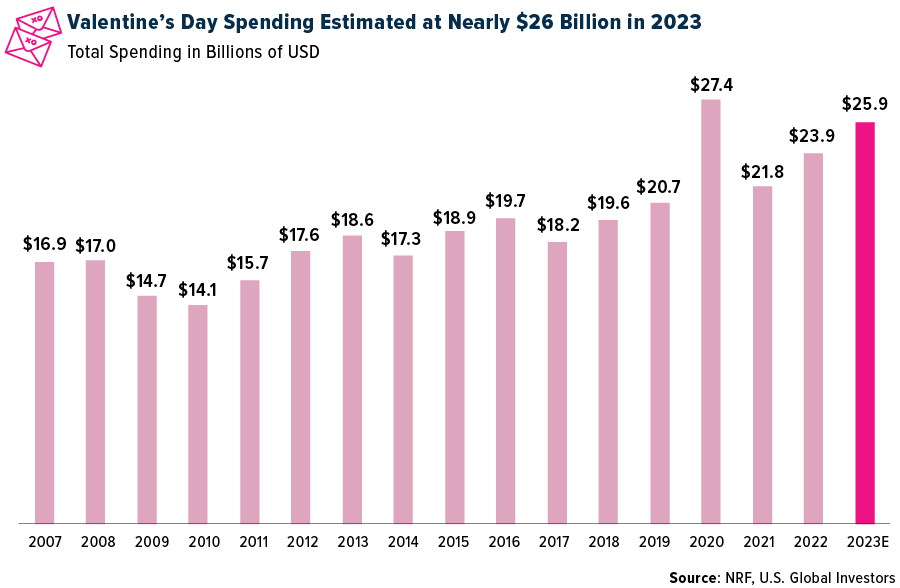 Of the nearly $26 billion, roughly 21% is forecast to be spent on jewelry, representing $5.5 billion. Clothing could fetch 19%, or around $5 billion.
Valentine's is just one shopping event, of course, and even if we were to exclude it, luxury sales would still be very strong at the moment, despite economic headwinds such as persistently high inflation and rising interest rates.
That's the takeaway from LVMH, which posted what it's calling a "record" year in 2022. All-time high revenue and profit were recorded in the company's wine and spirits category, and record revenue was generated in fashion and leather goods. Total revenue for the year stood at €79.2 billion ($86bn), while profit was €21.1bn ($22.9bn). Both figures were up 23% from the prior year.
LVMH, the world's largest luxury goods conglomerate with an impressive stable of recognizable brands – including Louis Vuitton, Christian Dior and Tiffany – is often seen as an industry bellwether because of its size and reach. In its annual report, the company said that 2023 was off to a robust start, and it stressed its confidence in its ability to continue the momentum from last year and maintain its global leadership.
I'm particularly bullish on the luxury goods industry, due in large part to China's recent announcement that it would lift quarantine requirements for travelers entering the country. Before the pandemic, Chinese tourists were the world's biggest spenders on luxury items while traveling abroad. European luxury retailers even began hiring Mandarin speakers to service the massive influx of travelers from China.
Three years after the start of the pandemic, the Chinese government is incrementally relaxing its restrictive zero-Covid policies, and I imagine luxury goods retailers couldn't be happier.
The same goes for investors. Take a look at the chart below. Our Global Luxury Goods Fund (USLUX) has pulled ahead of its benchmark, the S&P 1500 Composite Index, on optimism that Chinese consumers will again visit luxury goods retailers with open wallets. For the six-month period through January 30, USLUX increased close to 10%, while the S&P 1500 lost approximately 2%.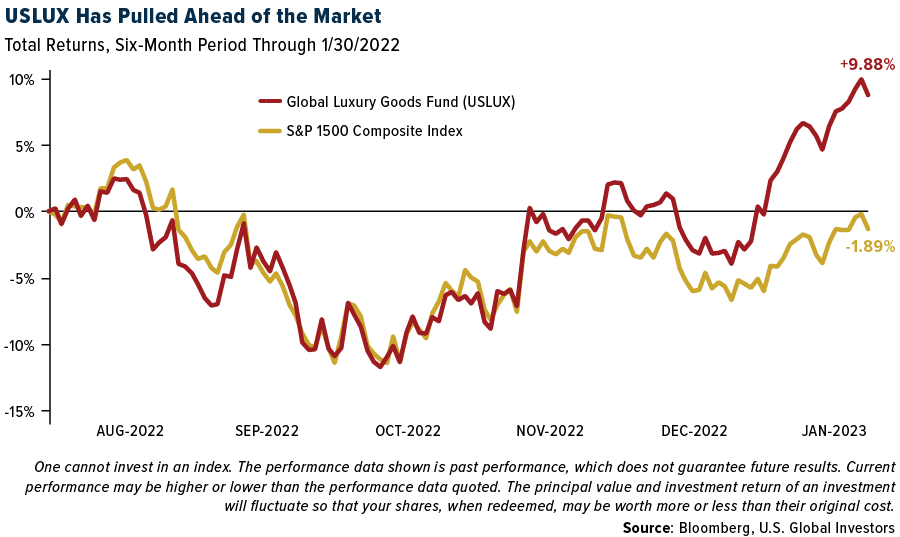 Besides traditional luxury brands, USLUX also seeks to invest in consumer discretionary industries such as automobiles, home and office products, leisure products, recreation facilities, travel and more.
Investors seeking comprehensive exposure to the luxury goods industry don't have many options. In the US, one of the only available luxury-focused funds is our Global Luxury Goods Fund (USLUX), which seeks to invest in companies that are involved in the design, manufacture and sale of products and services that are not considered to be essential but are highly desired.