Long Bond's Fellow Travellers Drop Out
Wednesday, 9/28/2022 09:01
30-year yields still rising. But commodities...?
COMMODITIES and inflation expectations have (or had) been rising right along with the long bond's yield, writes Gary Tanashian in his Notes from the Rabbit Hole.
But some of the 30-year Treasury yield's fellow travellers are dropping off, just as the hawking Fed wants (needs).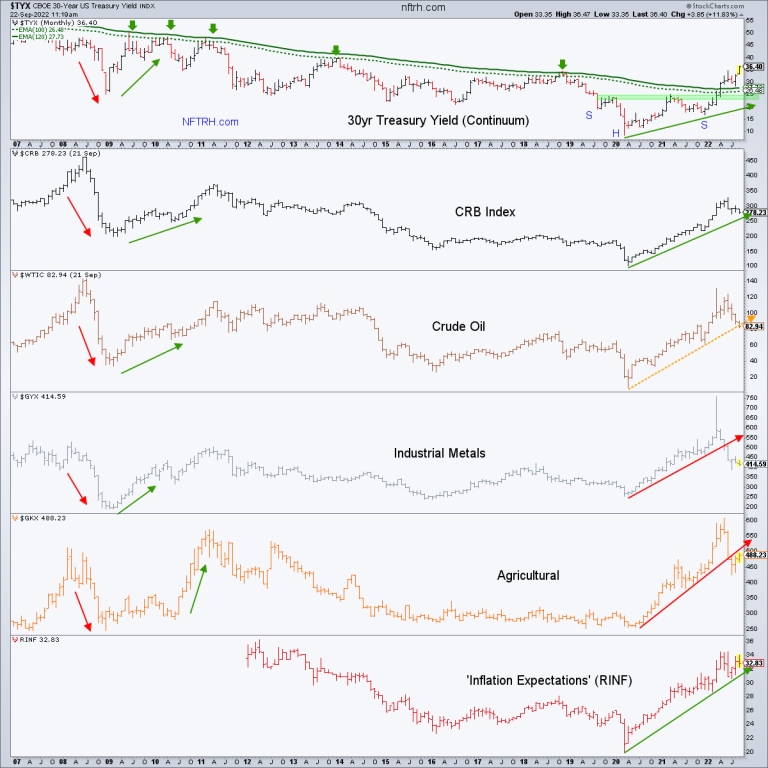 The CRB commodity price index is still on trend. Oil has a chance to crack here. Industrial metals (headlined by Doctor Copper) have long since broken down, and the Ags are creeping a rally up the underside of a previous breakdown.
Notably, inflation expectations have not cracked trend and the hawking Fed hawks on.
Simple, eh?
All in all it's a beautiful picture of a macro in process as the Continuum's fellows start dropping one by one. NFTRH has given its subscribers an objective for upside in the 30-year yield. When it reverses the fun begins, because boat loads of casino patrons are looking backwards just like the hawking Fed.