Gold Trading 'Calmer' as China's GDP Accelerates, UK Pound Jumps as Brexit Bill Passed
Thursday, 1/18/2018 14:47
GOLD TRADING in London saw wholesale prices rally from near 1-week lows versus the Dollar on Thursday as the US currency fell again after new data said growth in China's economy accelerated last year for the first time since 2010.
Gold prices popped $5 higher but failed to hold above $1330 per ounce as global equities extended yesterday's new all-time highs in New York's stock markets.
Beijing's
official data said
the Gross Domestic Product of the No.1 private gold-consumer nation grew 6.9% in 2017, its fastest pace since 2015.
Unadjusted for inflation, China's nominal GDP in Yuan terms rose just less than 11% in the fourth quarter on official NBS data, trimming the fastest annual expansion since 2011 – the year that global gold prices peaked in Dollar terms.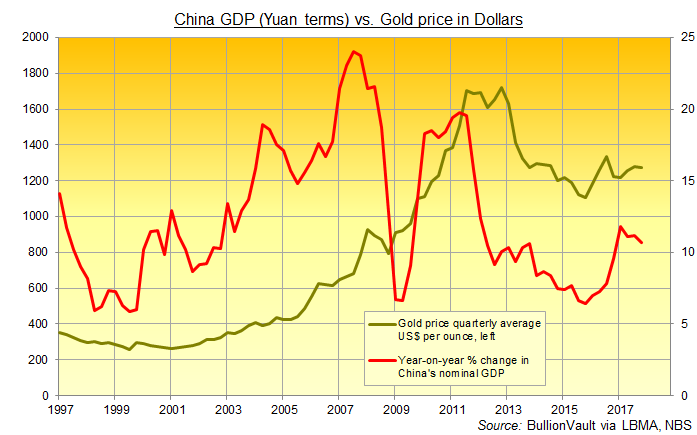 After Wednesday's heavy volumes amid Wall Street's fresh all-time highs, "today's trading [in] gold has been relatively quiet in comparison to last night's theatrics," says Thursday's note from Swiss refiners MKS Pamp's Asian team.
"Gold has pulled back from the 4-month high printed on Monday, however the metal looks well supported at $1325 and below that we can expect plenty of buying interest ahead of $1300."
Gold prices fell in Thursday's Shanghai trading to 2-week low in Yuan terms, but the premium for wholesale bullion delivered into the world's No.1 gold consumer market edged higher to $8.30 per ounce.
Next month's Chinese New Year will coincide with Valentine's Day, marking the world's single heaviest gold-buying season.
"Consumption was the major growth driver" for China's GDP in 2017, says the official Xinhua news agency, "contributing 58.8% to GDP growth last year."
China's GDP numbers "[were] unlikely to show the scale of recovery because of previous moves to hide a slowdown," claimed the
Financial Times
earlier this week
.
But 3 regions have now revised their local government revenues sharply lower for 2017, says Reuters, admitting what officials in the city of Baotuo called "previous fake additions".
China's stock markets rose Thursday, as did Mumbai and most Eurozone bourses.
But Tokyo fell, as did London, while the Yen and the British Pound held strong on the currency market.
With the Bank of England holding interest rates at 0.5% while targeting 2.0% annual increases in the cost of living, new UK data said Tuesday that inflation in the official Consumer Price Index eased to 3.0% in December.
A new poll then said Wednesday that left-wing opposition Labour Party leader Jeremy
Corbyn is losing appeal
among UK voters, who would also back staying in the European Union if given a second referendum after the 2016 shock.
The Conservative Government's EU Withdrawal Bill – part of preparing UK law for the end of EU supremacy in March 2019 – now faces anti-Brexit peers in the House of Lords after yesterday passing the House of Commons
by 324 to 295
, with many Labour lawmakers breaking ranks to vote against it.
London will probably remain the No.1 financial center in Europe post-Brexit, said French finance minister Christian Noyer on BBC radio today, while Paris regains influence it has lost over the past 20 years.
Priced in the Euro gold has erased the last 2 weeks' gain, trading back at 2017's final finish at €1086 per ounce.
The US is meantime considering
a "big fine" for China
over what President Donald Trump yesterday called "big damages" relating to intellectual property infringement.