Gold Rebounds 1.9% in London Trade as US and UK Housing Markets Weaken, China PMIs Jump
Wednesday, 3/01/2023 13:39
GOLD TRADING prices hit 1-week highs against all major currencies on Wednesday, rebounding by 1.9% in US Dollar terms from yesterday's new 2023 low as strong data from world No.2 economy China saw traders bid up the price of industrial metals as well as global stock markets.
Reaching $1839 per ounce for US investors
choosing to trade gold
in wholesale bullion bars, the price rose to £1525 per ounce in UK Pounds and touched €1730 in Euro terms.
Silver also rallied in London trade, edging back above $21 per ounce after hitting 4-month lows yesterday almost 60 cents lower.
The MSCI World Index of major-market equities meantime rallied 0.3% and copper added 1.5% from its own 6-week low after China reported better-than-expected factory and services-sector activity, with February's PMI surveys
extending the post-Zero Covid rebound
.
But government bond prices continued to slip, edging shorter-term interest rates higher again above long-term rates and pushing the spread between 2-year and 10-years US Treasury yields to more than 0.9 percentage points – the biggest such
"recession warning"
since 1981.
"It's a strange and unprecedented moment coming out of the pandemic," said Austan Goolsbee, a former White House economic advisor – and now a voting member of the Federal Reserve's interest-rate committee as CEO of the Chicago Fed – in
his first speech in the role
yesterday.
"Lots of things in the economy got turned on their heads, and we need to figure out where they will land and what that means for the future."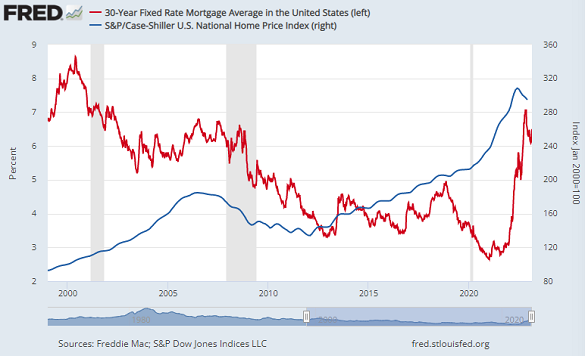 With the Fed now expected to hike its key overnight interest rate to 5.5% by the end of December according to betting tracked by the CME derivatives exchange, US home-loan costs rose sharply last week, up to 6.7% per annum on 30-year mortgages, the highest since November's 2-decade peak.
That saw new mortgage applications
drop by more than 2/5ths
from the same week last year, with refinancing applications down nearly 75%.
The Bank of England also "spends a lot of time poring over data" said UK central-bank chief Andrew Bailey today, noting that the world's 6th largest economy is
seeing an "unprecedented rate
of food price inflation" and blaming "external shocks that [leave us] no easy way out" after raising interest rates to 4.0% but lagging headline inflation in the cost of living by the worst margin since the country's 1976 IMF crisis.
The UK's average house price fell 1.1% last month from February 2022 according to the Nationwide building society, with the number of
new mortgage approvals sinking
to what would be a global financial crisis low outside of spring 2020's Covid Crash on Bank of England figures.
In contrast to China, headline manfacturing activity across the 19-nation Eurozone shrank yet again in February, led by worsening trade conditions in regional powerhouse Germany according to the S&P data agency's PMI surveys.
Factory output stopped falling for the first time in 9 months, but while "easing supplier bottlenecks and improved raw material availability [meant that]
supplier delivery times shortened
to the greatest extent since May 2009...inflows of new orders continued to fall at a marked rate, reflecting persistent weak demand."
GDP growth in commodities giant Australia slowed hard to 2.7% per year in the last 3 months of 2022, new data said Wednesday.
Crude oil meantime defied the wider rally in industrial commodities, dropping around 1% as new data said US stockpiles grew much faster than anticipated last week and reflecting a global surplus of supply over demand for 2023 which Russia – hit by Western sanctions over its invasion of Ukraine but still enjoying strong energy exports –
aims to offset by cutting
its output this year.