Gold Mining Stocks: Soon, Not Yet
Tuesday, 11/09/2021 09:01
Inflation macro not helping...
WHILE I
hold a special place (in my thoughts and in NFTRH) for the gold stock sector due to its counter-cyclical nature, it's a big market out there and a strategic view of the macro helps with successful positioning,
writes Gary Tanashian in his Notes from the Rabbit Hole.
There's a weekend report for subscribers for all that stuff. For now, a brief review of gold/silver mining and royalty stocks.
Gold miners have been fundamentally impaired by the inflationary macro as costs (energy, materials, humans) have outpaced product (gold) for well over a year.
As with other markets/sectors, sentiment became overdone to the downside in September 2022, and from there (one of our key downside support targets at 230 on the HUI index) we projected a bounce and with some stops and starts, the rally logically began.
I have now seen an Inverted H&S (bullish) show up among gold stock 'analysts' (code for 'obsessives' if all they manage are gold stocks amid a field of many sectors that are actually working).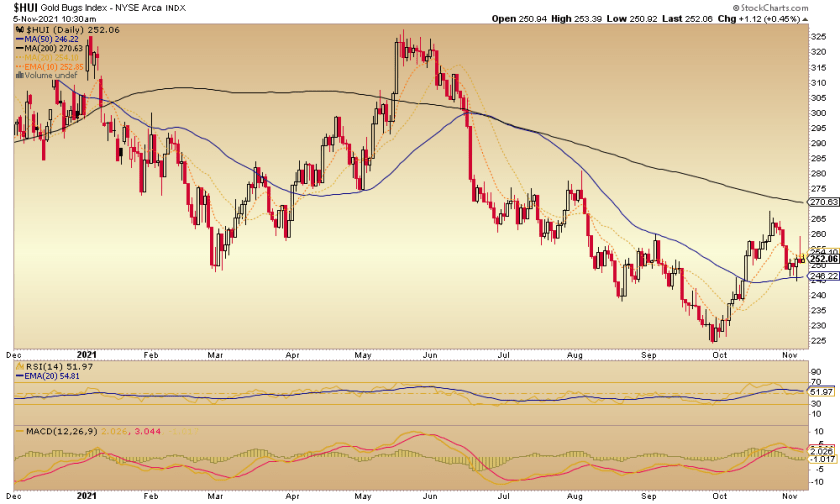 We projected a pre-Fed-tapering-announcement pullback to the simple 50-day moving average, which would be the healthiest thing to do during FOMC week, and that is what Huey then did. The H&S potential lives, although the trends are down.
Bottom line? Gold stocks are and have been trending down (ref. the 50 and especially 200 day moving averages) but can be on watch for a real rally (as opposed to bounce) to break the downtrend.
That is because this is a sector on the other side of the cyclical inflation, and when that starts to fail (disinflation) or morph (stagflation) the miners could start to gain fundamental tailwinds. For now, a bounce lives and I hold several gold mining stocks, some for said bounce and a very few as 'core'.
As the Fed pretends to be pivoting hawkish, making a slight alteration to its inflationary policies, the wider market simply laughed it off and bought the news, as we had anticipated the previous weekend in NFTRH 679.
Unlike recently dropping inflation expectations, the stock market Good Ship Lollipop continued apace into and through FOMC. A few reflation-sensitive sectors took a brief pause but that was about it.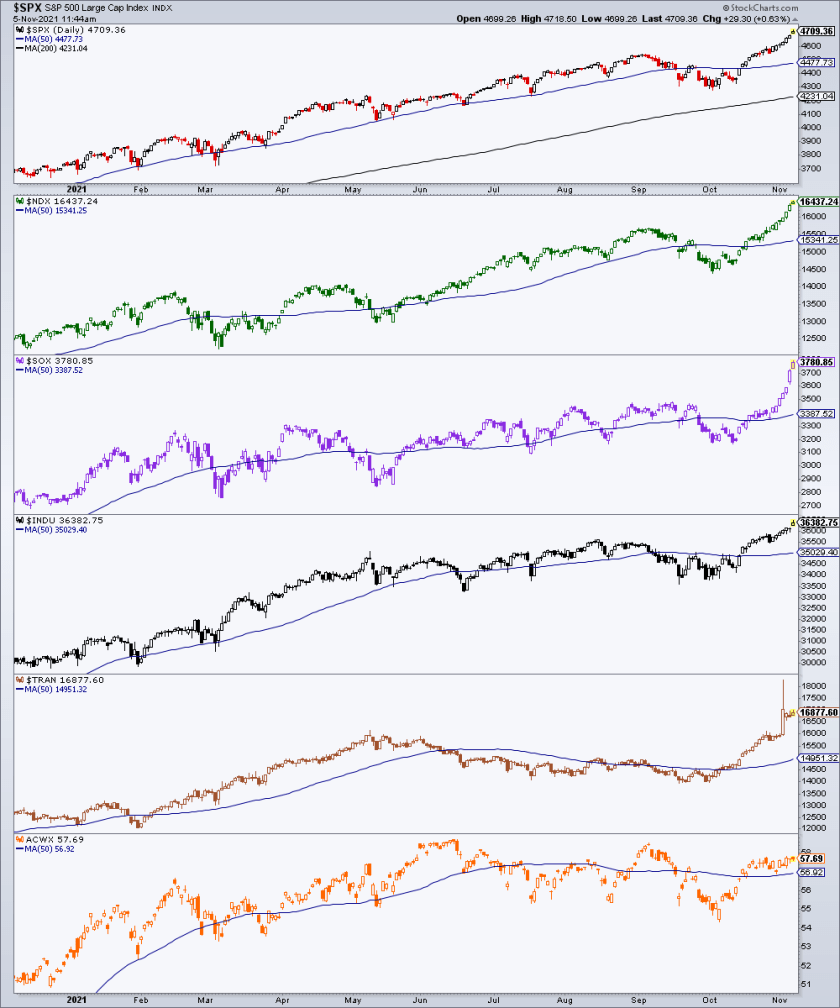 Here we find US indexes (SPX, NDX, SOX, DJIA and its Dow Theorizing fellow, the Transports) all at varying flavors of bullish.
The World (ex-US) in the bottom panel is bull biased as we have noted weekly in NFTRH lately, the mixed bag (bullish, bearish and potentially topping) being what the world is at this time.
This bullishness comes amid a resumption of the US stock market's structurally over-bullish sentiment profile after September's much needed correction in price and therefore, sentiment. It also comes at what is on average a seasonally firm time of year.
So at the very least my bearish friends, gold stock and/or commodity obsessives, realize that the Armageddon touted to you in 2020 and every step of the way since by perma-bears (hello Zero Hedge) is as yet proving hard to come by as Garth, Wayne and those of us rationally tracking and managing the market party on.
No, I have not gone perma-bull. I am fully aware that this is another manifestation of the central bank liquidity orgy as (funny) munny units printed to denominate asset prices, by definition, make those prices go up. It's supply (currency) vs. demand (goods & services). But it is also reality for now (and since Q1 2020).