Gold/Silver Ratio Hits Pre-Covid Highs as Palladium Bounce Outpaces Platinum
Tuesday, 2/07/2023 14:36
GOLD, silver and platinum prices struggled against a rising US Dollar on Tuesday, leaving beaten-down palladium the best performing precious metal as it rallied 3.8% from yesterday's new 3.5-year low.
Global stock markets also struggled ahead of a key speech from Federal Reserve chairman Jerome Powell, expected to bring new comments on the US central bank's view of raising interest rates further to curb inflation, while longer-term US borrowing costs held at the highest since New Year at 3.65% on 10-year Treasury bonds.
With silver falling harder than gold over the last 4 sessions, the
Gold/Silver ratio
of the two former monetary metals today touched 84, approaching the peak of its mid-1990s to late-2010s range but still 1/3rd below its Covid Crisis peak of spring 2020.
Platinum's discount to palladium – formerly a premium almost without break, peaking at $1730 per ounce and averaging $650 this century until the
diesel scandal starting in 2015
hit European demand for diesel passenger cars and therefore platinum autocatalysts – meantime held near $600 per ounce.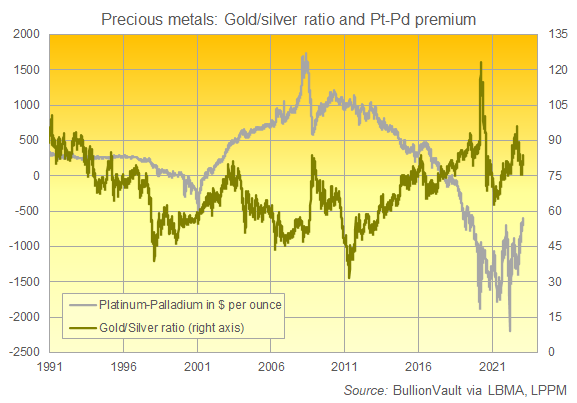 Gold prices today fell back below $1870 per ounce, a 3-week low when hit in
Friday's US jobs-data plunge
and 4.6% beneath last Thursday's 9-month high.
Silver slipped to new 2-month lows at $22.15 per ounce, more than 10% beneath its 9-month high of Thursday, also reached
after the US Federal Reserve raised Dollar interest rates
by just 0.25-percentage points as expected but warned that "ongoing [interest-rate] increases will be appropriate."
Platinum meantime slipped to 3-month lows near $966 per ounce after Gwede Mantashe, Minister of Mineral Resources and Energy in the metal's No.1 producer nation of South Africa, assured delegates at this year's Investing in African Mining Indaba in Cape Town that he has
a plan to resolve the power supply crisis
hitting the sector, plagued by years of failing infrastructure and load-shedding at state-owned energy monopoly Eskom.
Sister-metal palladium – also finding its primary use in autocatalysts to reduce harmful emissions from fossil-fuel engine – in contrast leapt $65 per ounce from Monday's bottom at $1560, the lowest US Dollar price since September 2019.
Whether the white precious metal is "coming back into favour [remains] questionable," said Rhona O'Connell of brokerage StoneX on a webinar Monday, pointing to "potential inventory build" at platinum mining producers but also to Europe's forthcoming Euro 7 emissions standards, which – if governments offer incentives to retro-fit more efficient autocatalysts – "will benefit palladium substantially."
Alone among the 4 main precious metals, palladium is forecast to fall on its annual average price in 2023 by analysts entering the London Bullion Market Association's
Forecast Survey
, with the average prediction
seeing a 14.3% drop
from 2022 to $1809.80 per ounce across the year as a whole.
In contrast to palladium,
platinum has other industrial applications
besides internal combustion engines, and as the ICE faces long-term decline, "The Inflation Reduction Act places the US at the forefront of the hydrogen economy,"
says a report
from German refining group Heraeus, favoring platinum-iridium catalysts for PEM production of low-carbon hydrogen, ready for generating electricity through platinum-based fuel cells.