Spike in Bond Yields Hits Gold Hardest in 18 Months But Silver and PGMs Regain Steep Drops
Wednesday, 4/19/2023 15:15
GOLD PRICES sank Wednesday morning, dropping at close to the fastest pace in over 18 months, as longer-term interest rates jumped across Western markets following stronger-than-expected UK inflation data.
Silver and the industrially-useful
platinum-group metals
also whipped violently as 10-year US Treasury yields jumped to the highest in 5 weeks at 3.63% per annum before edging back.
In particular, "Money managers are concerned that troubles brewing in the US and European commercial real estate markets could set off a broader credit crisis," says the
Wall Street Journal
of the BoA findings, with almost 1-in-2 respondents saying that commercial real estate is
now the most likely driver
of a "systemic" credit event, "up from 10% in March."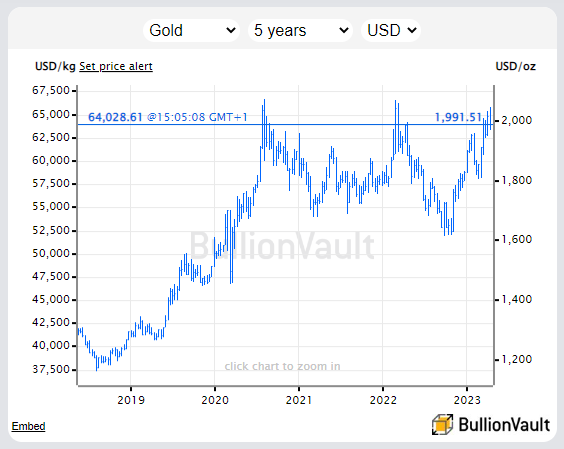 With gold priced in Dollars briefly dropping to $1970 but then bouncing towards $1990, the precious metal bottomed 3.8% below last Thursday afternoon's London PM benchmark –
gold's 2nd highest
such level ever at $2048 per ounce – with a drop close to its steepest 4-session plunge since August 2021.
Silver prices
meantime lost 2.5% before regaining it all at $25.28 per ounce, while platinum lost and regained more than $20 to trade back at $1084 – up 3.9% for the week so far – as sister-metal palladium cut its rise since the weekend from 10.9% to 8.8% after jumping Tuesday to a 10-week high at $1647.
Now trading over $300 per ounce above March's approach of 4-year lows, palladium – which finds almost 4/5ths of its end-user demand from emission-reduction systems in gasoline-engine vehicles – last month saw speculators in Nymex futures and options contracts place the heaviest bearish bets on record, with the Managed Money category of trader reaching a net short position as a group equal to more than half of total open interest.
Electric-car pioneer Tesla (Nasdaq: TSLA) today
cut the price of its new vehicles
to US consumers for the 6th time this year, sending its shares over 3% lower ahead of the New York opening.
Germany's rail network will
grind to a halt this Friday
after members of transport union EVG voted to reject a 5% pay offer from Deutsche Bahn, pressing ahead with their call for a 12% increase.
While Bank of England interest rates reached 4.25% last month, consumer-price inflation in the UK ran at 10.1% new data said today.
Yesterday saw the giant GLD
gold ETF
shrink for the 4th session running, down to its smallest size in 3 weeks and extending the weakness in gold ETF flows which had already seen the sector expand by
only 0.4% as the gold price rose
by more than 1/5th from October's 2.5-year lows.
Today's overnight drop in global gold prices then saw the premium for metal landed in China – gold's No.1 consumer market – rise above $9 per ounce, the strongest incentive for new imports in a fortnight.
But with domestic gold prices in India still near last week's new records above 60,000 Rupees per 10 grams, jewelry demand in the precious metal's No.2 consumer
"might ease a bit"
for the Akshaya Tritiya festival – now promoted as an "auspicious" time to buy gold – according to analysts and dealers, although
advance bookings have been "encouraging"
.
India is now on track to become the world's most populous nation this summer, overtaking China, after Beijing reported the
first annual drop in 4 decades
in the population of Guandong – the world No.2 economy's leading export province.