Gold and Silver ETFs Expand, Ratio Falls to 2023 Low as Stock Market and Bitcoin Rally 'At Odds' with US Fed
Thursday, 3/30/2023 15:36
GOLD held firm and the silver price rose against a weaker Dollar on Thursday ahead of key inflation data, but both precious metals retreated against most other major currencies as the US revised down last year's GDP growth and reported a rise in claims for jobless benefits.
Betting grew that the Federal Reserve will raise its key interest rate yet again at start-May, but the US central bank will then start cutting rates before Christmas according to 97.6% of futures contract positions tracked by the CME derivatives exchange's
FedWatch tool
.
"Stated Fed policy remains at odds with what Fed Funds [traders] are expecting," says precious-metal analyst Rhona O'Connell, noting the clear anti-inflation stance in last week's Fed announcement.
Ahead of tomorrow's US inflation data – expected by analysts to show the core PCE index repeating January's 4.7% annual increase last month – "This is a massive week for economic data from the United States," O'Connell adds, "and that has led to gold essentially trading in a holding pattern."
As gold in Dollars continued to trade above $1965 per ounce while silver briefly touched $23.90 – a new 8-week high – the US currency fell 0.5% on its trade-weighted forex index.
Euro gold in contrast dipped through €1800 and the UK gold price in Pounds per ounce slipped 0.4% to £1587, also trading at the bottom of the last 2 weeks' range.
Silver also erased previously strong weekly gains for non-Dollar traders outside of the Japanese Yen, dropping 1.8% for UK investors mid-afternoon in London to £19.00 and losing 1.2% in Euro terms towards $21.50 per ounce.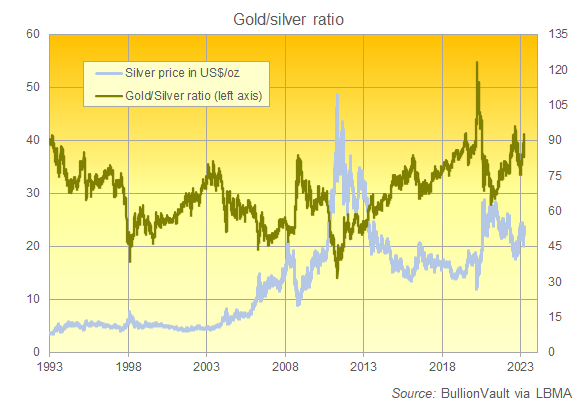 Measured in any currency, that put the
Gold:Silver Ratio
– which finds the 2 former monetary metals' relative value against each other simply by dividing the gold price by the silver price – just beneath 83.
Down more than 5% from March's previous daily average, that level of gold-to-silver ratio marks the lowest cost of gold in terms of silver since New Year.
Silver's giant bullion-backed exchange-traded fund – the iShares Silver Trust (NYSEArca: SLV) – yesterday expanded for a 2nd day running, cutting its liquidation for March to 3.7% and needing 14,327 tonnes of silver to back its shares in issue.
That holding – larger by 6.7% from mid-January's 2.5-year low but still 1/3rd smaller than
the #silversqueeze peak
of early 2021 – equates to around 56% of global annual silver-mine output.
Gold's giant GLD ETF has meantime expanded by 1.5% so far in March to need over 929 tonnes of bullion to back its shares in issue – the most since mid-October – but the No.2 gold ETF, the iShares IAU, has barely changed at 443 tonnes, its smallest since May 2020.
Together, that put the size of the world's 2 largest
gold-backed ETF
trust-fund products at less than 38% of last year's global gold-mine output and almost 1/4 smaller than the record weight of late-2020, with only their 4th monthly inflow of the last year.
While more than half of silver's end-use demand comes from industrial users in contrast to less than 1/10th for gold, Thursday's rise in silver prices defied a wider drop in industrial commodities, with crude oil edging back from 2-week highs and copper slipping further from last Thursday's 3-week peak.