Abenomics' Landslide Win Dents Japanese Yen, Gold Prices Drop to $1275 'Support'
Monday, 10/23/2017 13:41
GOLD PRICES fell to 2-week lows against a rising US Dollar on Monday as world stock markets pushed upwards from new record closing highs after the ruling government in Japan won its 'snap' election with a landslide.
The Japanese Yen sank to a 3-month low versus the Dollar, and Tokyo shares hit 21-year highs, after prime minister Shinzo Abe's decisive victory for his so-called Abenomics policies now "clears the way" for
more fiscal and monetary stimulus
, designed to weaken the Yen, plus structural reforms for the world's third largest single economy.
After half-a-million Catalans
marched through Barcelona
on Saturday in support of independence, breakaway leader Carles Puigdemont now
plans to appeal to both
Spain's and the European Union courts to block the national government's move to reclaim all regional powers.
"The gold market is sitting in the doldrums," says a note from brokerage Marex Spectron's London bullion desk, "with little to no excitement in the world to push it one way or another.
"As such, the price is drifting lower and is purely following Dollar moves, especially Dollar-Yen."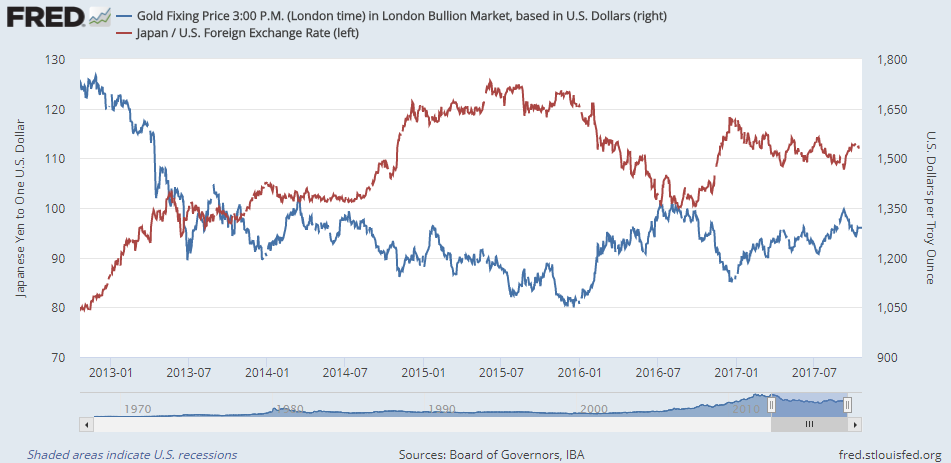 Increasingly mirroring the Dollar's FX value on the currency markets over recent decades, gold priced in Dollars has so far in 2017 shown a 5-week correlation with the US currency's exchange rate in Japanese Yen of minus 0.83.
That would read -1.0 if gold and Dollar-Yen moved perfectly opposite to each other.
Over the previous 5 years that statistical relationship averaged a reading of -0.46, having averaged -0.26 over the first 10 years of this century.
"Gold [was] under pressure right from the market open as the greenback pushed higher against the Yen," says today's trading note from Swiss refiners MKS Pamp's Asian team.
"The sharp move lower was generally well supported toward $1274-1275, while a mild bid tone out of China buoyed the metal in early Shanghai trade."
Shanghai premiums, over and above comparable London quotes, today held little changed in line with the historic average of $9.50 per ounce on the city's
key Au(T+D) contract
.
For US Dollar traders, "Support remains unchanged at $1275.80, the 100-day moving average," says the latest technical analysis of gold prices from Canada's Scotiabank – itself
now "weighing" a decision whether or not to sell
its centuries-old London bullion market making and clearing division Scotia Mocatta.
Monday's surge in Tokyo's Nikkei index still left Japanese stocks 40% below the all-time peak of 1990.