Gold Prices Drop After LBMA Forecasts 6.6% Gain, Trump Gets 'Shortlist' for Fed Chair
Wednesday, 10/18/2017 14:04
GOLD PRICES extended this week's drop on Wednesday as bullion-market executives got back to work after the LBMA conference in Barcelona, taking the precious metal's loss since Monday's brief 3-week high to 2.0% against a rising US Dollar.
Delegates to the London Bullion Market Association's conference in Barcelona yesterday forecast gold prices rising to $1369 per ounce by the time of next year's event in Boston, some 6.6% above Tuesday's afternoon benchmark of $1284.75.
That average prediction is one percentage point below the average annual gold-price rise forecast at the last ten LBMA conferences.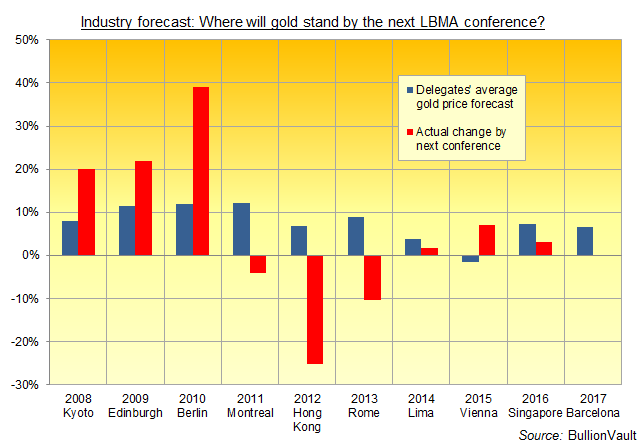 Having said he would decide "in the next 2-3 weeks" almost 4 weeks ago, Trump now has a
short-list of 5 candidates for Fed chair
says the Associated Press, quoting an un-named official, with 'low-rate' Yellen pitted against fellow board member Jerome Powell, ex-board member Kevin Warsh, Stanford academic John Taylor and Gary Cohn of the National Economic Council.
"Interest rate hikes had not been fully priced in [to gold] for next year,"
Reuters today quotes
Germany bank Commerzbank's bullion analyst Carsten Fritsch, looking at this week's drop.
"That has changed massively following speculation that Powell might become the next chairman."
A decision of 'no change' at next month's Fed meeting is now certain according to betting on interest-rate futures, but the likelihood of a December hike stood at 96.7% on Wednesday morning, up from 82.7% one week ago and just 56.6% this time last month.
Major government bond prices slipped again, nudging 10-year US Treasury yields up towards 1-week highs at 2.33%.
Gold prices stood at $840 per ounce when
10-year yields
first fell below that level in late 2008.
The metal sank at its fastest pace on record when yields then jumped back up through 2.30% amid the '
taper tantrum
' of 2013.
After US stockmarkets
set fresh all-time record highs
overnight, Spain's Ibex 35 index of stocks today held flat, bucking a wider rise to new highs in Eurozone equities.
With the world's second-heaviest consumer gold demand after China, dealers and retailers in India continued today to give highly mixed reports of household purchases during the current pre-Diwali festival season – the country's peak period.