Gold Prices Slip Back Near $1300 After Comex Options Surge on N.Korea 'War' Talk
Tuesday, 9/26/2017 13:27
GOLD PRICES this morning cut yesterday's sharp $15 gain following North Korea's accusation that the US has "declared war", falling back to $1302 per ounce in Tuesday's London trade as the Dollar rose and world stock markets held flat overall.
"When Trump said this weekend that our country wouldn't be around much longer, he at last declared war on our country," declared Ri Yong Ho, the DPRK's foreign minister, to reporters in New York on Monday.
With gold prices jumping back above $1300 per ounce for the first time since Wednesday, "We [therefore] have
the right to take counter-measures
," Ri went on, "including the right to shoot down the United States' strategic bombers even when they are not yet inside our airspace borders."
Despite the tensions however, the world's largest bullion-backed trust fund, the SPDR Gold Trust (NYSEArca:GLD), failed to expand on Monday despite trading volume jumping 36% compared with its 12-month average on the New York Stock Exchange.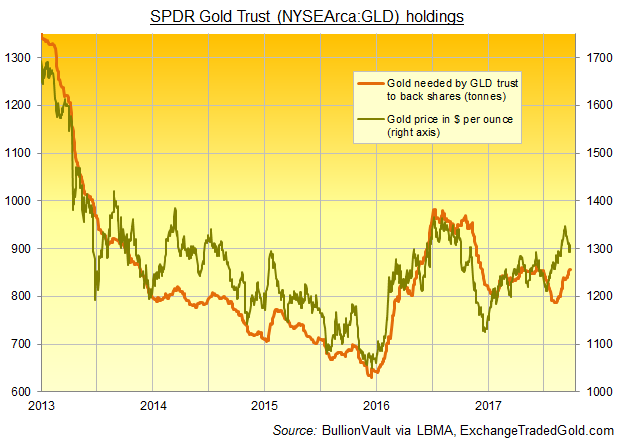 On a rolling 1-month basis, the correlation of bullion prices with the size of the GLD yesterday turned negative for the first time since gold rose but the ETF shrank in late July and August, dropping to -0.18.
That figure would read +1.0 if gold prices and the GLD's size moved perfectly together. It has read above +0.42 half of the time since the
exchange-traded gold fund
launched in late 2004.
The number of outstanding Comex gold futures contracts rose in contrast on Monday, expanding 1.3% on Monday as trading leapt 42% from Friday's 1-month low according to data from the CME Group.
Trading volumes in yet-more highly leveraged Comex gold options
meantime leapt 130%
from the previous week's average, hitting the highest level of September so far with open interest growing fastest in November calls, which expanded by almost 1-in-10.
"Many investors view gold as a haven amid [these] ongoing political and economic risks," says Japanese conglomerate Mitsubishi's Jonathan Butler, "and need to hedge excessive equity market length.
"Domestically, the Trump administration's attempts to reform the US tax system and provide fiscal stimulus [may also] see a protracted and potentially damaging set of negotiations that could help support gold."
Over in India meantime, the Hindu calendar's current
9-day festival of Navratri
has seen gold demand from households in Mumbai fall just to half expected levels, according to city dealers.
Nationwide, retailers are blaming new 'know your client' rules on customer I.D. and tax reporting for
India's gold buying sinking
from the typical autumn festival levels.
"In addition, the majority of [festive] purchasers are women who save money over a period, and are not comfortable with KYC rules."
India's main stock indices closed lower for the 8th day running on Tuesday.
Overall however, Asian stock markets held more than 5% higher from the start of July, when
Pyongyang first tested a missile
it claimed could reach "anywhere in the world".