Gold Prices Extend Post-Powell Drop as Hedge Funds Cut Bullish Bets to 3-Month Low
Monday, 5/09/2022 13:59
GOLD PRICES dropped Monday as further falls in global stock markets saw risk-averse demand for Dollars push the US currency up to 20-year highs on the FX market after speculators continued to reduce their bullish betting on gold for the 3rd week running, writes Atsuko Whitehouse at BullionVault.
Spot gold prices fell 1.3% to $1859 per ounce after recording their 3rd weekly decline, extending the drop to nearly 7% since Federal Reserve Chairman Jerome Powell
affirmed in mid-April
that a half-point rate hike was on the table for May – a move delivered at last Wednesday's policy meeting, and the first such hike since May 2000.
Oil prices also fell, down more than 2% by lunchtime in London, despite the G7 group of nations agreeing plans to block imports of crude from Russia as part of tighter sanctions over Moscow's invasion of Ukraine.
Latest data show that hedge funds and other leveraged speculators in Comex gold futures and options cut their bullish betting for the 3rd week running in the week-ending 3rd May and increased their bearish betting.
Overall, the data collected and published by US regulator the Commodities Futures Trading Commission (CFTC) say that pushed the net long position of Managed Money traders to the smallest in over 3 months. The net bullish positions shrunk 43% in the last 3 weeks.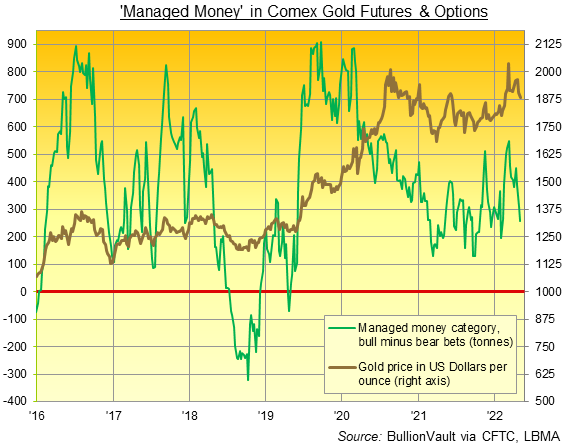 European stock markets extended their decline on Monday, with the pan-European Stoxx 600 slipping 1.5% on Monday to trade 8.5% lower for the last 3 weeks, while government bond prices also fell yet again, driving the annual yield offered by US Treasurys up to new 3.5-year highs.
"Persistent strength in the US Dollar and higher bond yields amid expectations that the Fed may continue with aggressive rate hikes to get inflation under control are weighing on gold," says Ravindra Rao, head of commodity research at Indian brokerage Kotak Securities Ltd.
The Dollar Index – a measure of the US currency's value versus its major peers – has now risen by 3% since Powell confirmed the half-point move 3 weeks ago, hitting 104 on Monday morning, its highest level since 2002.
Ten-year US Treasury yields – a benchmark rate for government as well as many finance and commercial borrowing cost – rose towards 3.19%, the highest level since November 2018.
The US rate of
inflation
across the next decade implied by Treasury bond prices meanwhile edged higher to 2.9% on Monday, down slightly from the record high above 3.0% per annum reached 3 weeks ago.
April's US CPI inflation data will be released on Wednesday. Consensus economists are looking for the headline rate of CPI inflation to read 8.1%, down from March's 41-year record of 8.5%.
"The Dollar's recent strength is due to the Fed's noticeably tighter stance compared to other major central banks," reckons Koichiro Kamei, a financial and precious-metals analyst in Tokyo, "as well as to the unusual volatility of both the US stock market and the US Treasury market.
"Investors are increasingly avoiding investment risk, which may be reflected in the Dollar's strength as a result of increased risk-averse demand for cash."
Futures contracts on the US stock market fell sharply in pre-market trade after recording the sixth straight losing week for the Dow and the 5th for the S&P 500 and the Nasdaq Composite.
Over the last 3 weeks the major indices have now lost 4.5%, 6.1% and 9.0% respectively.
Speculators also reduced their net bullish betting on silver last week
says the CFTC data
, slashing it by 43% to take the 3-week change to 64%.
Like
gold
that has taken silver's Managed Money net spec long to the smallest in 3 months.
Silver prices today fell 2.5% to $21.80 per ounce, pushing
the Gold/Silver Ratio
– which tracks the two formerly monetary metals' relative prices – up above 85, the highest in nearly 2 years.
Platinum, which finds two-thirds of its demand from industrial uses led by auto-catalysts, also dropped 2.6% to $938 per ounce, while the price of palladium – of which Russia is the No.1 miner – fell 1.5% to $2022 per ounce.
The UK government announced on Sunday that it will increase tariffs on platinum and palladium imports from Russia and Belarus
in a new package of sanctions
.
"Today you're defending what our fathers, grandfathers and great grandfathers fought for," Russia's President Vladimir Putin said in a speech at today's military parade in Red Square to mark the anniversary of victory against Nazi Germany.