Gold Prices Down, Bitcoin 'Bubble' Up with Stocks + Dollar on Trump's Tax Plan
Monday, 12/04/2017 14:33
GOLD PRICES dipped Monday morning as the US Dollar gained following the Senate's approval of Donald Trump's tax cuts and Western stock markets rose, writes Steffen Grosshauser at BullionVault.
The US Dollar briefly touched a 2-week high after the Senate narrowly approved the Republican Party's tax overhaul on Saturday, including plans to slash the corporate tax rate from 35% to 20%.
This likely tax victory for US President Donald Trump took the focus away from the ongoing FBI investigation into alleged links between his advisory team and the Russian government.
European stocks meantime rebounded after Friday's decline, led by the German Dax index climbing 1.23% and the Stoxx Europe 600 index heading for its first gain in three days.
The Dollar price of crypto-currency Bitcoin fell $500 from Sunday's brief new all-time record high above $11,700.
Furthermore, "We've never seen Bitcoin's performance in a financial panic -- so that's a big uncertainty right there, leaving aside the criminality."
Betting on gold prices by hedge funds and other money managers grew over 15% last week net of that group's bearish bets, reaching the largest size in 9 weeks according to data on Comex futures and options positioning from US regulator the Commodities Futures Trading Commission (CFTC).
The net-long positions of "managed money" in silver, in contrast, shrank 12% last week.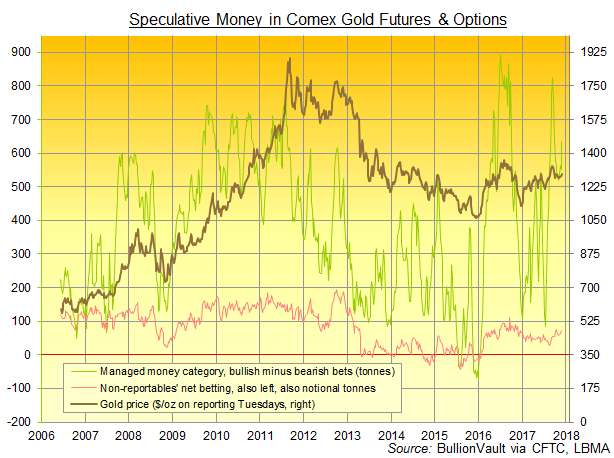 "With this [US] tax deal, markets could pick up speed into the end of the year," reckons Angelo Meda, head of equities at Italian asset manager Banor SIM in Milan.
"It looks like the ingredients for a year-end rally [in stocks] are there."
Gold prices today dropped 0.5% to $1274 per ounce, still up more than 12% year-to-date versus the Dollar but trading almost unchanged against the Euro and British Pound.
UK gold prices in Pounds per ounce
fell back to £940 per ounce Monday morning -- near its lowest in 12 months -- as Sterling rose following reports of agreement with the EU over the issue of a 'hard border' between Northern Ireland and Eire following March 2019's Brexit deadline.
UK Prime Minister Theresa May is set to meet EU negotiators in Brussels today to break the deadlock.
Progress was reportedly made at the weekend
on a "divorce bill"
plus citizens' rights post-Brexit.
Half of Britons now support a second vote on whether or not to leave the European Union, according to a new poll.
The US and South Korea on Monday meantime launched their largest-ever air drills, ignoring North Korea's warning that this would push the Korean insula to "the brink of nuclear war". The drill followed another test of an intercontinental missile by North Korea a week earlier despite international sanctions and condemnation.
The silver price again extended the drop in gold on Monday, falling to 2-month Dollar lows at $16.38 per ounce.