Gold Price Tries $1300 Again as Betting on Fed Rate Shock Grows, Bitcoin Triples in 3 Months
Tuesday, 11/28/2017 14:29
GOLD PRICES held in a tight $5 per ounce range on Tuesday morning in London as major government bond prices rose, nudging interest rates lower, ahead of key US data and central-bank testimony.
With Jerome Powell, Donald Trump's nominee to head the Federal Reserve, speaking to Congress later today, European stock markets shrugged off yesterday's drop on Wall Street and overnight fall in Asian equities.
Wednesday then brings Q3 GDP figures from the US, and "barring any major downside surprises this should bring cheer to US equities, industrial commodities and expectations of rate hikes," writes Japanese conglomerate Mitsubishi's precious metals strategist Jonathan Butler.
"All of that could negatively impact investor sentiment towards gold," Butler says, warning that the Fed may raise interest rates more aggressively in 2018 because the cost of borrowing has been "kept low for too long amid subdued inflation...stoking up trouble for global financial markets in future."
Betting on US Fed interest rates now sees zero chance of "no change" at the central bank's mid-December meeting, with a near 93% certainty of a 0.25 percentage point rise to a ceiling of 1.50%.
The other 7% of bets now predict a half-point hike to 1.75% in the Fed Funds rate, according to data from the CME Group's FedWatch tool, up from just a 2% chance this time a month ago.
The heaviest betting on Fed rates 1 year from now, however, sees just one further hike after December.
Having come within $1 of $1300 per ounce at the start of US trade on Monday, the price to buy wholesale gold bars dipped below $1293 in Asian trade Tuesday, recovering to $1296 in London.
"Gold has been showing accumulation above the 200-day moving average," says the latest technical analysis from French investment bank Societe Generale.
The 200-dma now comes in at $1263 per ounce.
But pointing to a potentially bullish pattern marked by the two gold price lows around that same level in October, "a break above $1298 is essential to affirm a retest of the neckline of [that] double bottom," says SocGen.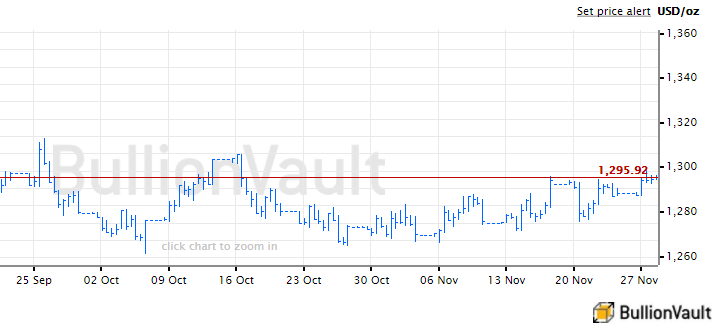 "Major central banks such as the Fed, ECB and BoJ have created over $6 trillion of surplus liquidity since the financial crisis," notes FX strategist Steven Barrow at Chinese-owned investment and bullion bank ICBC Standard today.
"In our view this liquidity build-up...even if it has helped to smooth the post-crisis economy...has led to a number of risks [which] include imploding asset prices, rising inflation and even an increase in the challenge from alternative monies, such as Bitcoin."
Almost tripling in US Dollar terms over the last 3 month, so-called crypto-currency
Bitcoin today touched $9,924
before retreating 1.3% from that fresh all-time record.
Asset managers GMO – now running $77bn of client assets – have
cut their 7-year forecasts
for all investment class returns, reports the UK's
Investment Week
today.
Looking ahead to 2025, GMO now reckons that stocks in large US corporations "will fall 4.4% on an annual basis," says the magazine, "compared to a forecast of -3.1% made in Q4 2016."
Gold priced in other major currencies meantime edged higher on Tuesday as the Euro and Pound eased back versus the Dollar on the FX market ahead of Powell's testimony and the Q3 US GDP data.