Gold Price 'Back on Track' as Stock Markets Slide, Real Rates Fall Amid Omicron Fears Post-Fed
Monday, 12/20/2021 14:01
GOLD PRICES held onto last week's gains on Monday, trading near $1800 as interest rates in the bond market fell further below inflation expectations and global shares slumped on fresh Covid-19 restrictions across Europe aimed at slowing the fast-spreading Omicron variant, writes Atsuko Whitehouse at BullionVault.
Having made its first Friday-to-Friday advance in 5, the gold price today moved sideways at $1797 per ounce, holding onto most of last week's 0.9% advance.
"Omicron is one of the biggest issues for markets right now because it has clouded the outlook moving into year-end," reckons Jim Reid, strategist at German lender Deutsche Bank.
"Our view is that gold should indeed get back on track next year as risk hedging will remain key," says Rhona O'Connell, bullion specialist and head of market analysis for EMEA and Asia at Stone X in the brokerage's new 2022 Market Outlook.
"Real interest rates will remain negative even if inflation does prove to be transitory, and this wipes out the opportunity cost of holding physical metals."
The real interest rate implied by inflation-protected 10-year TIPS bonds edged down Monday, falling to a 2-week low of minus 1.04% as the nominal bond rate steadied below 1.40% per annum, suggesting a rise in long-term inflation forecasts.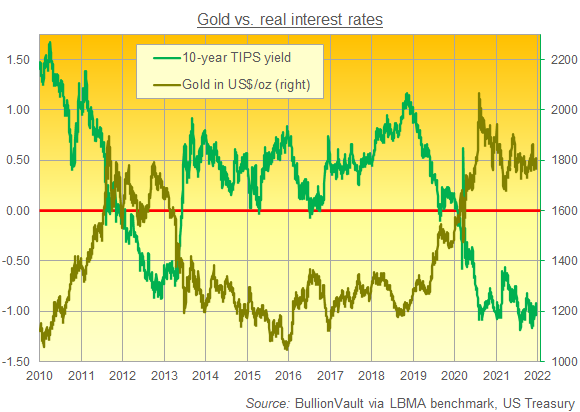 The Federal Reserve's
latest economic projections
last week forecast real interest rates of -1.8% versus core PCE inflation in 2022, up from September's forecast of -2.0%.
Economists at US investment bank Goldman Sachs have reduced their economic growth forecasts after Republican Senator Joe Manchin on Sunday
rejected $2 trillion tax-and-spending
plans from Democrat President Joe Biden.
"I cannot take the risk with a staggering debt of more than $29tn and inflation taxes that are
real and harmful
to every hard-working American at the gasoline pumps, grocery stores and utility bills, with no end in sight," said Manchin.
The US Dollar Index – a measure of the US currency's value versus its major peers – was trading within a narrow range on Monday, following last Friday's 0.7% advance.
European stock markets meantime dropped the most in 3 weeks as the Eurostoxx 600 index fell as much as 2.6% before rallying to a 1.7% loss by lunchtime following losses in Asian equities.
Spot gold in Euro terms meanwhile edged lower by 0.2% to €1597 per ounce after the Netherlands on Sunday became the first EU country to re-enter a nationwide lockdown, while the German government tightened travel restriction over the weekend and Ireland initiated an 8pm curfew for pubs and restaurants.
The UK's health secretary
did not rule out
having to bring in curbs in England before Christmas, telling the BBC it was "time to be more cautious."
Gold prices for UK investors on Monday rose 0.4% to £1364 per ounce, as the Pound fell hard despite last week's Bank of England rate rise – the first in 3 years – taking Sterling down to its lowest FX rate since December 2020 against the Dollar.
Gold prices on the Shanghai Gold Exchange meantime continued to show a premium to London but eased to an incentive for new imports of $7 per ounce on Monday as the Yuan weakened against the Dollar after China's central bank cut a benchmark lending rate for the first time since April 2020, during the height of the coronavirus pandemic in the country.
Wholesale bullion in the metal's No.1 consumer market showed an average premium to London of $9 last week – right in line with the typical historic incentive for new imports.
Meanwhile the Lira, currency of No.5 gold-consumer nation Turkey, tumbled to another record low on Monday after Turkish President Recep Tayyip Erdogan pledged to continue cutting interest rates despite inflation rising above 20% per year.
The Turkish central bank has made a string of interest-rate cuts since September under intense political pressure from Erdogan.
In contrast, the US Federal Reserve Governor Christopher Waller said on Friday "An interest rate increase will likely be warranted 'shortly after' the Federal Reserve ends its bond purchases in March.
The central bank "should also begin
reducing its bond holdings
as soon as the summer to attack 'alarmingly high' inflation," he added.