Strongest US GDP in 2 Years Erases Week's Gold Price Gains, Platinum 'Oversold' Says HSBC
Wednesday, 11/29/2017 14:01
GOLD PRICES dropped on Wednesday as new data said the US economy expanded 3.3% per year between July and September, its fastest pace since 2014.
Falling from its 6th attempt above $1296 so far this week, the gold price lost $10 per ounce against a rising US Dollar while silver and platinum fell sharper still.
Broader commodity prices slipped for the second day running as major government bond prices fell, edging the yield offered by 10-year US Treasury debt up to 1-week highs above 2.35%.
North Korea's overnight missile test -- reported by the dictatorship of Kim Jong-un as proving Pyongyang could hit anywhere in the United States with a nuclear weapon -- saw US President Donald Trump vow to "take care of it."
But the test "
appeared calculated to avoid
crossing red lines that could provoke military action by Washington," according to the
Wall Street Journal
.
With gold prices erasing this week's previous 0.9% gain to the Dollar, silver fell twice as hard, hitting new November lows at $16.71 per ounce.
Platinum held firmer, fixing at its highest price since mid-September at London's AM benchmarking before halving this week's gain so far to 0.4% at $942.
"We regard platinum as being oversold and look for a recovery in prices," says a note from global investment and London bullion clearing bank HSBC.
"Concerns of loss of market share in the auto sector, while valid, may be exaggerated," says the note.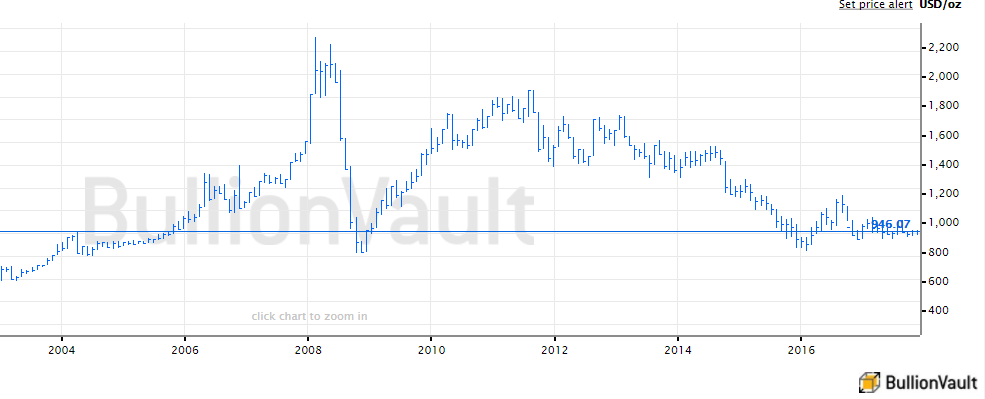 South Africa's Public Investment Corporation -- which runs $150 billion of assets for state-employee pensions --
today asked for two seats on the board
of troubled platinum miner Lonmin (LSE:LON), raising what it called "urgent" concerns over the firm's leadership and challenges.
Also asking Lonmin to move its main stockmarket listing to Johannesburg from London, PIC owns some 30% of the world's No.3 platinum miner
after stepping in when a 2015 rights issue
failed to find enough private investment.
Major stock markets meantime rose everywhere on Wednesday except China and the UK, where the FTSE-100 index fell as the Pound surged on the forex market on news of Britain doubling its "divorce payment" offer to the European Union.
With no official statement on the size of the deal --
reported at EUR 55 billion
by the BBC -- UK foreign secretary Boris Johnson called it a "fair offer" intended "to get the whole ship [of Brexit negotiations] off the rocks."
New survey data today put economic confidence across the 19-nation single Euro currency zone at a 17-year high, rising for the 6th month in a row.
Versus the Dollar however, the Euro fell further from Monday's 2-month highs, despite yesterday's US report of the worst trade deficit on goods for more than 2 years.
Meanwhile in Turkey -- the world's No.5 gold consumer nation, where bullion prices have hit record highs on a plunge in the Lira -- the
prime minister today called opposition claims
that President Recep Tayyip Erdoğan paid millions of dollars to offshore banks accounts "lies".
Next week's New York trial of Turkish-Iranian gold trader Reza Zarrab -- accused of breaching sanctions against Tehran -- may now be suspended after he
pleaded guilty and turned witness
for the prosecution of Turkish banker Mehmet Hakan Atilla over the same multi-billion dollar allegations.
Zarrab is expected to testify later today, reports the New York Times.