Gold Price +0.9%, Silver Investment 'Weak' as $300m 'Kill' Hits Crypto
Wednesday, 11/08/2017 14:20
GOLD PRICE gains of 0.9% for the week so far held firm in London trade Wednesday as world stock markets flat-lined with bonds and commodities, and news spread that hundreds of millions of dollars held in crypto-currency Ethereum have been potentially lost by a developer "error".
Between $150-300 million-worth of crypto-currency was
either frozen
or
destroyed
late Monday – depending on whose analysis you read – after
a self-declared "newbie"
made what they claimed was an honest mistake to "kill" a library of transaction records.
The
crisis
was enabled, according to other coders today, by "a simple bug...a logic flaw" in a fix previously deployed by developers using the Ethereum blockchain.
Having lost and recovered 6% of its Dollar price last Thursday,
Ethereum dropped and recovered
almost 4% of its price overnight today, but continued to hold one-quarter below mid-June's current all-time peak at $400.
Leading crypto-currency Bitcoin meantime rose within $100 of Sunday's fresh all-time record high above $7,500 per unit – a 10-fold gain for 2017 to date.
"US silver coin and bar demand this year is set for the lowest total since 2010," says the latest weekly analysis from specialists
Metals Focus
, calling the sector "exceptionally weak [with] no sign of a turnaround."
Silver prices today
held above $17 per ounce, leaving its ratio to gold little changed at 75 per one ounce of the dearer precious metal.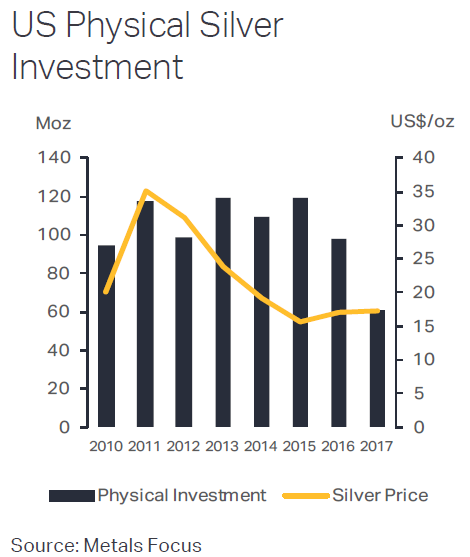 Silver investment demand in "India is also on course for a weaker performance this year," Metals Focus goes on, "albeit not as pronounced."
Gold's balance of supply and demand "[is] showing that
gold prices should fall into 2018
," reckons Singapore bank OCBC analyst Barnabas Gan, but "geopolitical events could cloud the fundamentals."
Landing in China to meet President Xi and discuss North Korea's missile tests, "You cannot support,
you cannot supply
, you cannot accept," said US president Trump overnight, asking "every nation, including China and Russia" to apply the United Nations' resolutions against the Pyongyang regime.
"We encourage the UN and international partners to take necessary action to
hold the Iranian regime accountable
," said US ambassador to the UN Nikki Haley on Tuesday about the Yemen-launched missile aimed at Saudi Arabia – now in the midst of a purge by new crown prince Mohammed Bin Salman of political, financial and royal rivals.
The finance minister of Spain, Alfonso Dastis, meantime said today that constitutional changes could allow legal independence referendums by the country's regions.
This follows the illegal vote and declaration of secession last month by the parliament of Catalonia, where unions have ignored separatist calls for a general strike and fresh regional elections are now due on 21 December.
Gold prices in Euro terms today rose back to 3-week highs at €1105 per ounce, some 5% above July's 18-month lows.