Gold Price Slips as Bond Yields Rise But UK Rate Hike 'Not Certain' Despite 5-Yr Inflation High
Tuesday, 10/24/2017 13:57
GOLD PRICES gave back yesterday's bounce against a rising Dollar in London on Tuesday as world stock markets ignored Wall Street's drop, bond yields rose, and a UK policy-maker tried to cool expectations for a hike in Pound Sterling interest rates.
America's S&P500 index last night capped a 5-day streak of new all-time record highs by falling 0.4%, led lower by the worst day for multinational General Electric (NYSE:GE) since August 2011 on a string of analyst downgrades.
Major government bond prices fell as Asian and European equities rose this morning, pushing 10-year US Treasury rates up to their highest since May at 2.41% after President Trump said he's "very, very close" to announcing his pick for the Federal Reserve chief when
Janet 'low rate' Yellen
's current term ends next February.
Gold prices traded 0.3% lower versus the Dollar for the week so far, slipping back to $1277 per ounce as the US currency edged higher on the FX market.
Gold priced in Sterling also slipped even as the Pound fell after senior Bank of England official Sir Jon Cunliffe said a November rate-hike remains "an open question".
"[But rates] will not need to go up as far and as fast as they did before the crisis [and] the exact timing...is a more open question.
"For me the economy has clearly slowed this year [and] that is going to put some domestic pressure on inflation."
UK inflation last month hit 3.0% per year on official data, the fastest rise in the cost of living since April 2012.
Bank of England interest rates currently stand at a record low of 0.25%, cut after 7.5 years at a then-record of 0.50% following mid-2016's Brexit referendum shock.
Moving in an opposite direction to real rates 51% of the time between 1977 and 2007, gold moved opposite to the direction of real UK interest rates in 65% of all months over the last decade, rising to 73% since 2012.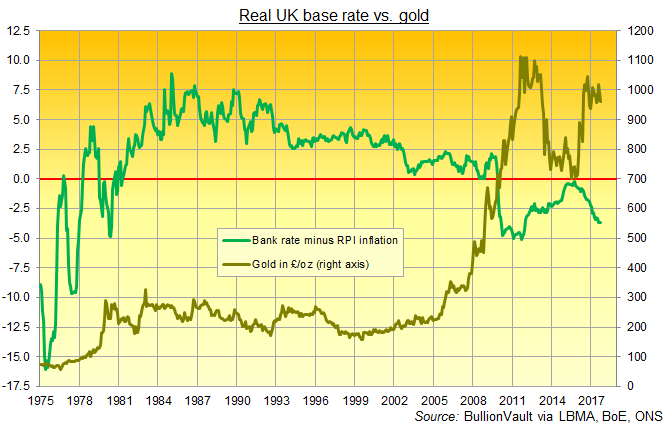 Sterling gold prices retreated below £970 per ounce on Tuesday, while London's FTSE100 share index today held flat to trade within 0.4% of mid-October's all-time high.
German chancellor Angela Merkel is "furious", says The Times, over a weekend report that UK prime minister Theresa May "begged for help" from EU leaders over Brexit, acting "anxious, despondent and discouraged" according to what German newspaper
FAZ
called EC president Jean-Claude Juncker's
description "to his colleagues"
.
While "frustrated" by the UK leadership's negotiations, Merkel "is [apparently] concerned above all that talks will collapse", risking May's replacement
by a more anti-EU figure
such as current foreign secretary Boris Johnson.
"This could hurt European economies."
"It is in fact up to London how this will end," said EU president Donald Tusk in Brussels today. "But [whether] a good deal, no deal or no Brexit, we will protect our common interest only by being together.
Spain's Ibex index meantime ticked higher but held over 8% below May's 2-year peak after CaixaBank
reported a record 9-month profit
of €1.5bn but said its move out of the breakaway region of Catalonia to neighboring Valencia "is not temporary".
Spain's national economic health is already suffering from the unofficial Catalan referendum and resulting uncertainty, the Madrid government said Tuesday.
Gold priced in the single Euro currency today erased Monday's 0.5% gain, trading back at €1086 per ounce as the EuroStoxx 50 index of the largest single-market corporations ticked 0.3% higher.