Gold Price Hits 2-Week Dollar, Euro High Ahead of Catalan 'Independence' as Shanghai Premium Leaps, Turkish Lira Sinks
Tuesday, 10/10/2017 13:43
The GOLD PRICE touched 2-week highs for Dollar and Euro investors on Tuesday, extending the metal's rally from Friday's 8-week low to 2.4% as world stock markets slipped further from last week's new record high.
Major government bond prices also slipped with stocks, edging yields higher.
Betting on the likelihood of a US interest-rate rise when the Federal Reserve meets in December
slipped back to 86.7%
, more than one percentage point lower from Monday but still nearly 3 times the level of betting this time last month.
"Even if financial markets can accept that appointing more ostensibly hawkish central bank leaders has some merit," says FX strategist Steven Barrow at Chinese-owned bullion and investment bank ICBC Standard, "we don't doubt that this process of acceptance by the market will require a rise in bond yields – and possibly quite a sharp one."
Gold priced in Dollars has shown an increasingly negative correlation with movements in US Treasury yields, losing an average $4.67 per ounce over the last 4 weeks for every 1 basis-point rise in 10-year T-bond yields.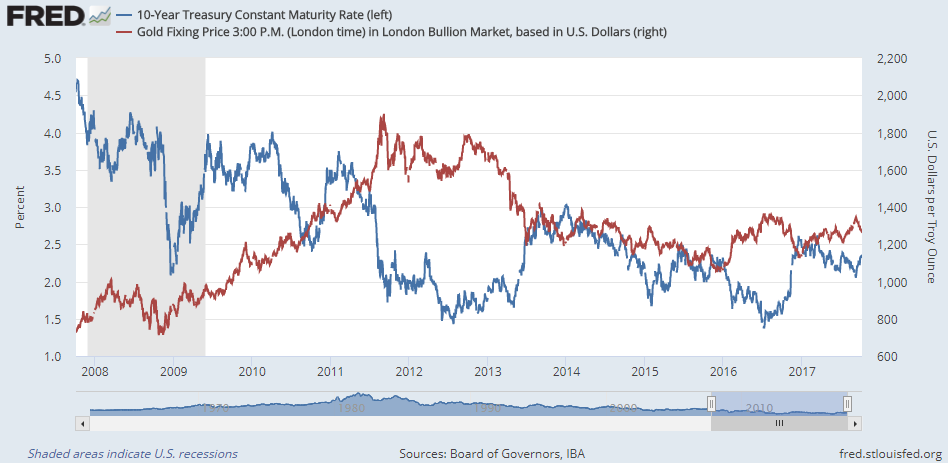 Shanghai gold prices slipped in Yuan terms, but the city's gold premium over comparable London quotes in Dollars jumped to $18 per ounce – twice the typical incentive to new imports into the world No.1 consumer nation – as the Chinese currency leapt on the FX market.
Precious metal prices in Turkey – formerly the world's No.4 consumer nation, now overtaken by Germany – rose over 4% at the Borsa Istanbul as the Lira sank within 3% of January's all-time record lows on the currency market amid Ankara's worsening diplomatic row with Washington.
The US yesterday
suspended all non-immigrant visa services
in Turkey after the arrest of a consulate staff member for apparent links with the Gülen opposition movement, blamed for last year's attempted coup.
Borsa Istanbul's 100 Index of listed companies bounced 1.2% for the day as the Lira sank, holding near Monday's 3-month closing low but still some 31% higher for 2017 to date.
Madrid's Ibex 35 meantime fell for the fifth session in 7 since Catalonia's unofficial referendum on separation, declared illegal by Spain's courts.
While the Dollar price of gold today traded 12% higher for 2017 to date, the gold price in Euros held flat from New Year at €1095 per ounce.