Gold Price Sinks, Platinum -11% in 4 Weeks as Stocks Up, Vix Down to Record, US Fed 'Pencils In' Rate Hike
Friday, 10/06/2017 14:54
GOLD PRICES sank to 8-week lows against a rising Dollar on Friday as yesterday's fresh all-time highs in global equities were followed by US data showing joblessness in the world's largest economy falling to a fresh 16-year low.
"I have
penciled in a third rate hike
in December," said Federal Reserve voting member Patrick Harker to CNBC on Thursday, "[although] we have to see how the inflation dynamics play out."
The Senate meantime approved President Trump's selection of ex-Treasury lawyer, investment banker and private-equity partner Randal Quarles as the Fed's vice-chair for banking supervision.
"Everything we know about Mr.Quarles says he will be fighting hard on behalf of the big banks," said Democrat senator Elizabeth Warren during the pre-vote debate.
New York's S&P500 stock index closed Thursday at a 6th new all-time high in succession, while the Vix 'fear index' measure of volatility fell to its lowest on record.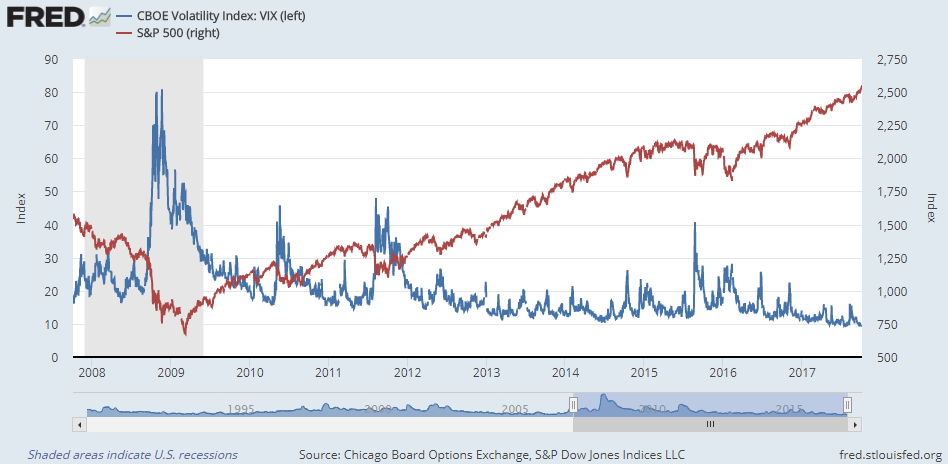 Silver again followed gold prices lower on Friday, losing almost 10% from September's 5-month high to trade below $16.43 per ounce.
Platinum fell to $906 per ounce, down over 11% from this time 4 weeks ago.
"A dispiriting session for the precious," says a trading note from Swiss refiners and finance group MKS of Thursday's trade, "with the stronger US Dollar and further records in the equities markets providing a stiff headwind.
"New York [traders] were sellers from the outset."
Giant gold-backed ETF the SPDR Gold Trust (NYSEArca:GLD) yesterday shrank for the third time this week, now shedding all last week's growth and shrinking the quantity of bullion needed to back its shares by 13.6 tonnes to 851 tonnes.
Larger by 3.5% for 2017 to date, that equals around 100 days of global gold-mining output.
Betting on December's Fed meeting now sees a 92% likelihood of the central bank raising its key rate up to a ceiling of 1.5%.
That figure read below 37% only a month ago.
Gold dropped Friday to $1261 per ounce – some $95 below early September's 12-month high – despite non-farm US payrolls shrinking by 33,000 on the
Bureau of Labor Statistics' first estimate
for September due to Hurricanes Irma and Harvey.
The civilian unemployment rate fell to 4.2% – the lowest since January 2001 – while average earnings rose 2.9% from the same month last year, matching December's 7-year high.
The Dollar hit a new 7-week high against the Euro and knocked the British Pound down near $1.30, some 6 cents below Sterling's 14-month peak of late September.
That drove the
UK gold price today
back above £970 per ounce, 1.6% higher from last Friday, as beleagured prime minister Theresa May vowed to give the country
"calm leadership"
through the Brexit negotiations despite a call from at least 30 of her parliamentary colleagues to stand aside.
Gold priced in Euros was unchanged for the week at €1083 as Eurozone equities held flat, with Spain's Ibex 35 index halving its mid-week losses to less than 2% from last Friday's finish despite the ongoing crisis after last week's unofficial referendum on secession by Catalonia.
Spain's Constitutional Court yesterday blocked the Catalan parliament from meeting on Monday, when separatists had planned to declare independence. Regional governor Carles Puigdemont today asked to meet instead on Tuesday "to
report on the political situation
."
A judge in Barcelona has agreed
investigate police brutality
during Sunday's failed shutdown of the poll, in which at least 130 people were injured.
"I can't help but regret it and apologise on behalf of the officers that intervened," said Spain's representative Enric Millo in a TV interview.
Gold prices in India – the world's No.2 consumer nation behind China – meantime recovered relative to global quotes this week,
Reuters reports
, but held a $3 per ounce discount as this month's key Diwali festival season failed to overcome household confusion and concern over new tax-reporting rules for gold jewelry and investment purchases.
"Smuggling has gone up in the past few weeks," the news-wire quotes a Mumbai bank dealer, "distorting legal trade as banks can't give huge discounts like operators in the grey market."