Gold Prices Slip vs. Euro as ECB Holds Rates + QE, Fall vs. Loonie as BoC Hikes
Thursday, 9/07/2017 13:40
GOLD PRICES in London rose back towards 12-month highs above $1340 in Dollar terms on Thursday morning but slipped versus the Euro as the European Central Bank left its negative interest rates and €60 billion per month QE bond-buying scheme untouched.
The Bank of Canada yesterday raised its key interest rate for the second time in 2 months, hiking to 1% and calling the country's second quarter annual GDP growth of 4.5% "
broadly based and self-sustaining
."
That squashed the gold price in Loonies 2.1% overnight as the Canadian Dollar jumped on the FX market.
Currency of 19 nations in Western Europe – the world's single largest economic bloc – the Euro today peaked 1 cent shy of last month's 32-month highs against the Dollar just before the ECB's widely expected announcement.
The FX market's reaction to
"no change" from the ECB
held the gold price in Euros at €1118 per ounce after it had erased this week's previous 0.8% gains.
World stock markets meantime pushed higher, edging the MSCI index back up towards last month's new record peak.
"With a highly uncertain geopolitical backdrop, subdued global core inflation and flat yield curves, gold remains an attractive safe haven asset," says a new gold price note from Chinese-owned bullion and investment bank ICBC Standard.
But
betting on prices via the Comex futures market
"shows that much of the good news for gold is already in the price," says analyst Marcus Garvey, forecasting that the price "will need to consolidate – possibly pulling back to support around $1300...[with] a challenge of last year's high of $1375 [now] a question of when rather than if."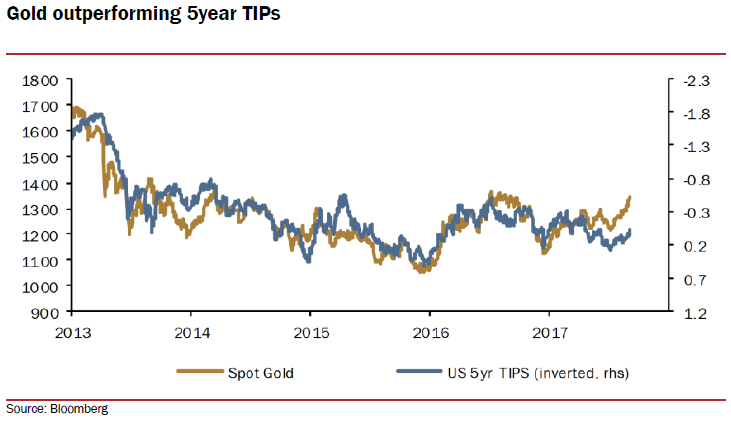 Looking at what's driven the gold price's recent surge, "The extent of the recent rally has surpassed what can be explained by just US interest rates and the weak Dollar," ICBC's Garvey goes on,
countering this week's note from analysts at investment bank Goldman Sachs
and noting that the metal has "comfortably outperformed" inflation-protected US Treasury bonds – something explained "in large part" by the Korean nuclear missile crisis.
Giant gold-backed ETF the SPDR Gold Trust (NYSEArca:GLD) yesterday saw its first and largest outflow of investor cash in a month, even as bullion rose to touch new 12-month highs at global benchmark the LBMA Gold Price.
Silver meantime tracked
gold prices
Thursday morning in London, also erasing this week's gain versus the Euro and holding 10 cents shy of Tuesday's pop to a 4-month high of $18.00 per ounce.
Platinum struggled in contrast, falling back below last week's finish in US Dollar terms and losing 1.1% from Monday's 6-month high to trade at $1003 per ounce.