Gold ETFs Shrink, Comex Bulls at 3-Year Low as Dollar Soars on Fed Rate-Hike Bets
Monday, 7/11/2022 15:10
GOLD PRICES traded in a narrow range near multi-month lows on Monday as the US Dollar held at 20-year highs on the currency market and speculative traders cut their bullish position on Comex gold contracts to a 3-year low, writes Atsuko Whitehouse at BullionVault.
Investors in gold-backed ETFs also cut their holdings further last week after the sector showed net outflows for May and June.
After falling for the
9th week in 11
, spot gold priced in the US Dollar on Monday edged lower by 0.4% to $1736 per ounce as the Dollar Index – a measure of the US currency's value versus its major peers – rose yet again ahead of Wednesday's US inflation data, with analysts forecasting a fresh 4-decade high of 8.8% that would likely push the US Federal Reserve towards another big hike in interest rates next month.
The Dollar's strength meant wholesale bullion prices rose 0.3% to £1453 for UK investors and 0.4% to €1718 for Eurozone investors.
"The economic climate of rising rates still argues for gold to go lower, which it is likely to do in the near to medium term," says James Steel, bullion market-maker HSBC's chief precious metals
analyst
.
''Gold bugs are falling like dominoes," add
analysts
at TD Securities, "with selling flow spreading across participants as CTA [Commodity Trading Advisors] trend followers join the vacuum."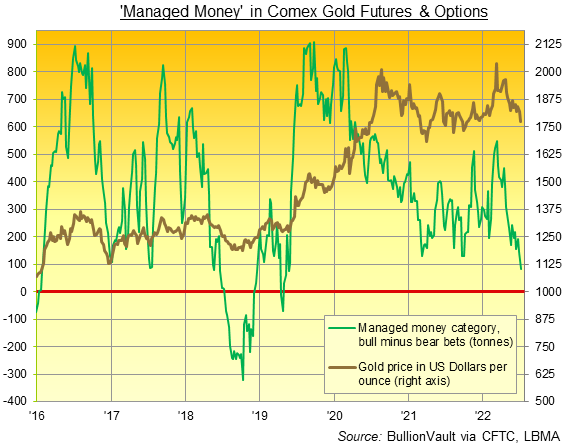 Latest data show that hedge funds and other leveraged speculators in Comex gold futures and options had by Tuesday last week cut their bullish betting by 47% as a group from the peak in early March, back when gold prices reached near record highs at $2069 per ounce amid the initial shock of Russia re-invading Ukraine.
That 'managed money' category has also grown its bearish betting on Comex gold contracts by 128% during the same period.
Overall, that has pushed the net long position of Managed Money traders down 85% over the last 4 months to its smallest since mid-May 2019.
Gold ETFs
meantime registered 28 tonnes of outflows in June, extending the 53-tonnes outflow of May, according to the latest report published by World Gold Council.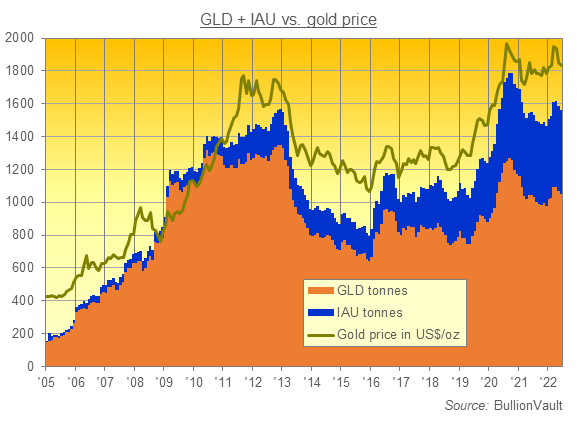 Already in July, the largest gold-backed ETF product – the SPDR Gold Trust (NYSEArca: GLD) – has liquidated nearly 30 tonnes on top, while the smaller iShares gold ETF (NYSEArca: IAU) has cut 2.7 tonnes.
Betting on July's Federal Reserve interest rate decision now sees a 93% chance of another 0.75 percentage point hike, while 7% of traders are betting on a full 1 percentage point rise, according to the CME's
FedWatch tool
.
Formerly 'dovish' voting member of the Fed Raphael Bostic on Friday said he "fully" supports another three quarters of a percentage point interest rate rise at the next
policy meeting
ending 27 July.
European stock markets dropped Monday with the pan-European Stoxx 600 index snapping a 3-day bounce as Nord Stream 1, the biggest single pipeline carrying Russian gas to Germany, shut for almost 2 weeks for annual maintenance.
Asian markets had earlier slipped amid concerns over rising Covid-19 cases in Shanghai, plus a new subvariant of Omicron discovered in the city, while New York futures pointed lower as Twitter shares slumped pre-market after Tesla boss Elon Musk said he's quitting his $44 billion takeover approach for the social media platform.
Government bond prices rose, pushing benchmark US 10-year yields down 4 basis points at 3.05%, but keeping them below the rate on 2-year bonds.
That so-called inversion is a warning sign that the economy could be weakening and a recession is possible.