Gold Price Hits 3-Month Low as Dollar Gains Amid War, Inflation and Global Economic Slowdown
Monday, 5/16/2022 14:41
GOLD PRICES dropped to set a new 3.5-month low Monday morning, as the US Dollar consolidated its recent surge near a 20-year peak on the FX market and global stock markets slipped again with higher-risk bonds after China released weak economic data, writes Atsuko Whitehouse at BullionVault.
Spot gold prices went down more than 1% to $1787 per ounce, the lowest since start February, before rallying to $1804.
The yellow metal fell nearly 4% last week, recording its 4th consecutive weekly decline with the steepest Friday-to-Friday drop since the middle of June last year.
The Dollar Index – a measure of the US currency's value versus its major peers – firmed at 104, near the 20-year highs set late last week, having briefly crossed the 105 level on Friday after 6 successive weekly gains.
China's anti-Covid lockdowns sent
April retail sales plunging 11.1%
year on year, Beijing said Monday, almost twice the drop forecast by analysts, while industrial output dropped 2.9% per year versus analyst forecasts of a rise.
Both data were the worst levels since the pandemic began.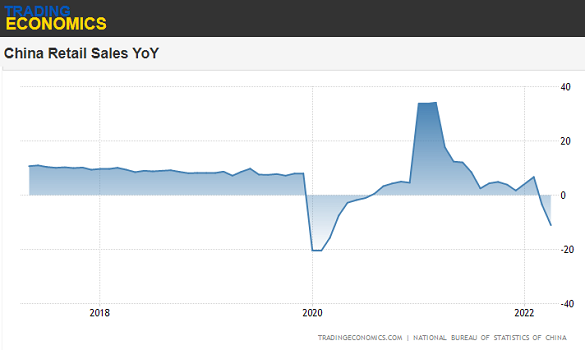 China effectively cut the interest rate for new mortgages over the weekend to bolster an ailing housing market, but the one-year policy loan rate was left unchanged Monday.
"Although Covid case numbers have declined markedly from the peak in mid-April, the unwinding of lockdowns has been extremely slow, due partly to the caution among local government officials," Ting Lu, Chief China Economist at Nomura, said in a note.
"Local lockdowns will
still severely impact
the production-end of the economy in May and view a quick turnaround as all but impossible."
Shanghai city, however, announced Sunday that it would start to allow restaurants to reopen gradually, and said Monday the city aimed to resume normal production and life by the middle of June.
Gold prices
on the Shanghai Gold Exchange meantime showed a premium to London this morning, increasing to $4.50 per ounce on Monday after wholesale bullion in the metal's No.1 consumer market turned the weekly average to a premium of $3.40 last week from a discount of $0.45.
Shanghai's premium to London has so far averaged $2.61 this year after recording discounts for several weeks in March and April,
dis-incentivizing new imports
to China for the first time since November 2021.
The last year's average was a premium of $5, historically a premium of $9.
Shares in Asia-Pacific closed mixed on Monday, as mainland Chinese stocks were lower while MSCI's broadest index of Asia-Pacific shares outside Japan was up 0.2%.
The EuroStoxx 600 index fell as much as 0.8% before rallying as the European Commission in
Brussels cut its growth forecasts
for the region and lifted its inflation outlook amid Russia's continued invasion of Ukraine.
"The war has led to a surge in energy prices and further disrupted supply chains, so that inflation is now set to remain higher for longer," says Paolo Gentiloni, the EC's economic commissioner.
Finland and Sweden are both set to apply for membership of Nato, the countries said Sunday, spurring Russian energy supplier RAO Nordic Oy to
cut off energy supplies
.
Gold priced in Euros fell 0.5% on Monday €1732 per ounce, the lowest since the end of March, while
the UK gold price in Pounds per ounce
edged lower 0.3% to around £1473, one-month low.