Gold Price Drops Below $1900 as Dollar Jumps, China and Ukraine Whack Stocks and Commodities
Monday, 4/25/2022 14:39
GOLD PRICES dropped below $1900 on Monday as the US Dollar surged to new 2-year highs and bonds rose, edging longer-term interest rates lower as global stocks and industrial commodities tumbled amid concerns over China's worsening Covid outbreak and lockdowns, writes Atsuko Whitehouse at BullionVault.
US-Russia tensions worsened meantime, after Secretary of State Antony Blinken and Defense Secretary Lloyd Austin completed a short visit to in Kyiv and Washington pledged more than $700m in additional military aid to Ukraine.
Spot gold prices fell as much as 1.9% to $1895 per ounce Monday lunch time in London, the lowest since 29 March, extending last week's 2.2% drop, the heaviest weekly decline in 6.
"The weakness in gold is being
blamed on strength
in the US Dollar, which has firmed a lot over the past few days," said John Reade, Chief Market Strategist at the World Gold Council.
The Dollar index – a measure of the US currency's value versus its major peers – spiked Monday morning, advancing for the third session in a row to the highest levels last seen in early March 2020.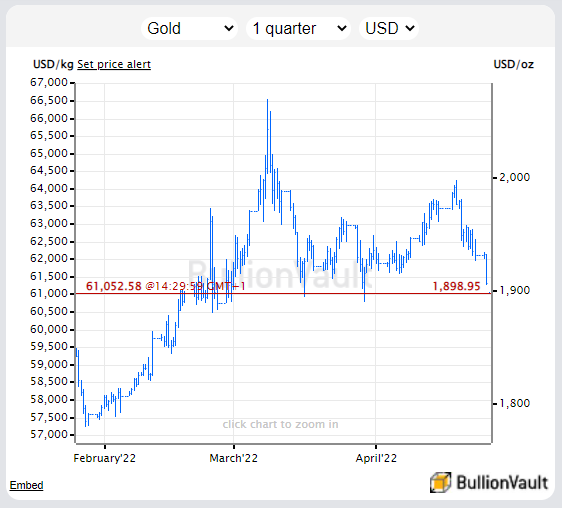 Ten-year US Treasury yields – a benchmark rate for government as well as many finance and commercial borrowing costs – today fell to 2.82%, down 8 basis points from last weekend's 40-month high.
Asian stock markets had their worst session in a month, as the MSCI Asia-Pacific index down 2.5% to a 6-week low as China's CSI 300 closed nearly 5% down at its lowest level since April 2020.
China's Yuan currency also slumped, dropping to its weakest in nearly 18 months as the capital Beijing joined major manufacturing, finance and trade hub Shanghai in imposing lockdowns to try curbing the outbreak of Covid.
That still saw gold prices on the Shanghai Gold Exchange return to a premium to London at $2.75 per ounce on Monday, after wholesale bullion in the metal's No.1 consumer market averaged a discount of $1.50 per ounce last week – suggesting weak domestic demand versus supply.
"There are concerns about the Covid situation in Beijing evolving into what happened in Shanghai with some prolonged lockdowns that bites the economy," Bloomberg quotes one portfolio manager.
European shares also fell hard, with the pan-European Stoxx 600 slumping 2.0% to its lowest since mid-March as the Euro currency also fell, erasing earlier gains on the FX market made after France's pro-EU Emmanuel Macron beat anti-EU Marine Le Pen for a second term as President.
Gold priced in Euros still dropped, reaching 2-week lows at €1768 while the UK gold price in Pounds per ounce went down 0.9% to £1491.
Oil meantime slumped nearly 5% to its lowest in almost two weeks with US benchmark West Texas Intermediate falling through $100 per barrel.
Prices for silver
, primarily an industrial metal, dropped nearly 3% to $23.43 per ounce, after recording a 5.9% fall last week. That put silver at the lowest since 15 February, pushing
the Gold/Silver Ratio
of the 2 formerly monetary metals up near 81, the highest in more than 4 months.
Platinum, which finds two-thirds of its demand from industrial uses led by auto-catalysts, fell 1.7% to $916 per ounce.
The price of palladium – of which Russia is the No.1 miner – dropped as much as 10.3% to $2138 per ounce.