Gold Price Nears Record Month-End Highs on 'Outdated' Fed Rate Consensus
Tuesday, 3/28/2023 15:04
The GOLD PRICE held firm against the Dollar, Euro and Sterling in London on Tuesday, heading to match or beat its all-time month-end highs in those 3 currencies as global stock markets paused their rally from this March's banking-scare slump.
With the MSCI World Index unchanged from yesterday's 1-week high, gold priced in the Dollar rose to $1963 per ounce – some 2.3% below last week's 12-month high – while the Euro gold price touched €1815 and gold in the British Pound rose within £3 of £1600.
Major government bond prices meantime edged lower for the 3rd session running, trimming this month's steep rebound and edging longer-term interest rates upwards.
With
2 regional US banks already failed
and others receiving Fed assistance, that skews the traditional model of commercial banks to "borrow short, lend long" by taking the cost of nearer-term loans above long-dated rates.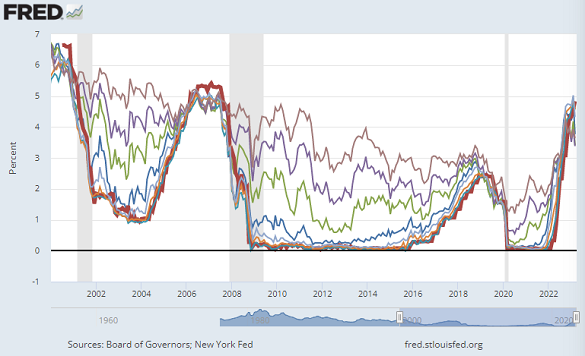 The Fed Funds rate briefly topped all Treasury bill and longer-term bond yields in September 2019, just as the Fed began cutting its key interest rate amid fears of recession, and it held above all Treasury market rates for 12 months running between the summers of 2006 and 2007 as the US subprime banking crash accelerated, sparking the global financial crisis.
"We don't see rate cuts this year," says
a new commentary
from giant asset management and finance-product group Blackrock, glossed by headline writers at Bloomberg as meaning "Markets are wrong on US rate-cut bets."
"That's the old playbook," Blackrock goes on, "when central banks would rush to rescue the economy as recession hit. Now they're causing the recession to fight sticky inflation – and that makes rate cuts unlikely, in our view."
Data from derivatives exchange the
CME says that today
almost 1-in-2 bets on the Fed's May meeting still sees the US central bank raising overnight interest rates once again in 5 weeks' time, up to a ceiling of 5.25% per annum – the peak reached and held despite lower Treasury bill rates and bond yields between July 2006 and July 2007.
But betting that the Fed will then end 2023 at that level or higher has now collapsed to less than 0.6% today, down from 2.0% a week ago and 91.4% this time last month.
"Near-term the focus remains on the financial market turmoil and
how US economic data
evolves, which influences the monetary policy of the Fed," Reuters today quotes Swiss bank UBS' gold analyst Giovanni Staunovo.
Gold prices may struggle, says a note from analysts at former London bullion clearing member Barclays Bank, "if inflation drops sharply but central banks are reluctant to immediately lower rates in response to it."
"We shouldn't think that uptrends are undisturbed [and gold prices]
could go up or down
from here," says Canadian brokerage TD Securities' commodities strategist Bart Melek, speaking to Bloomberg.
"But we think this is a good scenario for gold [because] the combination of the Fed being done [raising rates] and inflation trending lower implies we will get probably a fairly decline in interest rates at some point.
"I wouldn't be surprised if gold sees new highs in the second-half of the year."
"
Fed policy should support
the gold price later in the year," agrees a note from Dutch bank ING's commodities team, noting like Melek that "central banks remain keen gold buyers" and forecasting an average gold price across the last 3 months of 2023 of $2000 per ounce.
Analyst predictions for this Friday's data release on US inflation currently put the consensus forecast for
core PCE
to have repeated January's 4.7% annual rise in February, the highest since the early 1980s outside of last summer's jump to 5.4%.
Inflation forecasts derived from the
5-over-5 measure
in the bond market yesterday edged back to 2.21% per year, towards the lower end of the last 12 months' range but in line with the series' 15-year average.