Gold Price -2.7% from Banking Scare Peak, 'Bullish Room' for Comex and ETF Flows
Monday, 3/27/2023 14:09
GOLD PRICES fell for a second straight session on Monday as European stock markets climbed after last week's sharp sell-off, when speculators in Comex futures and options made a massive bet on the precious metal running higher above $2000 per ounce amid the US and European banking scare, writes Atsuko Whitehouse at BullionVault.
Following the
'shotgun' takeover
of Swiss giant Credit Suisse plus the failure of 2 regional US banks this month, the US Treasury declared Friday that the US banking system is "sound and resilient",
a view agreed by
the world No.1 economy's Financial Stability Oversight Council.
US regulators then said on Sunday evening that First Citizens Bank (Nasdaq: FCNCA) has agreed to acquire Silicon Valley Bank's deposits and loans, but the collapse of SVB will still cost $20 billion in deposit insurance payouts.
Gold bullion priced in the US Dollar today traded 1.4% lower at $1950 per ounce, retreating 2.7% from last week's 1-year peak above $2000.
That left gold prices 6.6% higher since
Silicon Valley Bank failed
on 10 March, and latest data – finally updated by US regulator the CFTC
after an I.T. outage
– shows that hedge funds and other leveraged speculators in Comex gold futures and options expanded their bullish view as a group amid the crisis, taking the Managed Money category's net speculative position to a 7-week high.
The week-to-last-Tuesday however saw that group cut its bearish betting by almost 3 times the size added to its bullish bets.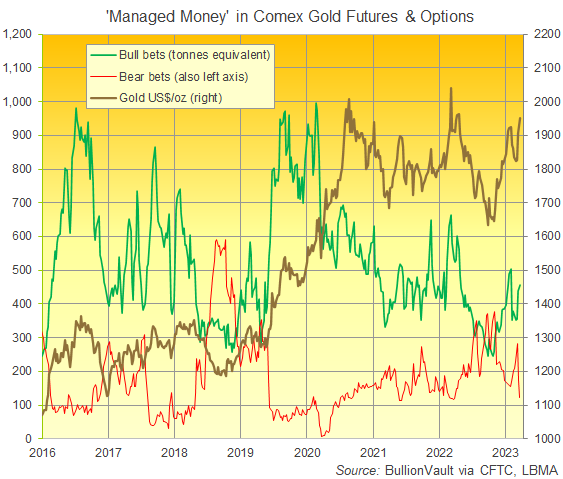 "In the days immediately following the collapse of SVB and Signature there was a massive increase in tactical positioning as traders looked for assets considered safe havens in times of crisis," says Suki Cooper, precious metals analyst at London bullion market-making bank Standard Chartered.
"Months of investor outflows [in February] meant positioning was light at the start of the latest problems,
reducing the amount
of further selling," she adds, explaining that in previous crises, this impact has been offset by other investors being forced to sell gold to meet margin calls on other investments.
Because the bulk of this growth in Managed Money net bullishness "was driven by short covering," says a note from derivatives platform Saxo Bank, "the upside potential from fresh longs remains [if] fundamental developments support a move higher."
Altogether that has grown the net long position by 343% from early March's drop to the lowest since early November, when central banks across the developed world – and led by the US Fed – confirmed they would
push ahead with steep interest-rate rises
as gold prices hit 2.5-year lows.
Gold-backed ETF trust funds
have meantime expanded over the past 2 weeks, heading to make their first monthly net inflow in 10 as both the giant SPDR Gold Trust (NYSEArca: GLD) and world No.2 the iShares gold ETF (NYSEArca: IAU) saw net investor inflows.
"The holdings of gold ETFs had been on a steady decline, but the SVB bankruptcy has proved a major turnaround in the trend," says Bruce Ikemizu, chief director of the
Japan Bullion Market Association
in his latest note.
Monday saw the pan-European Stoxx 600 index rise 0.9%, reversing some of Friday's 3.8% plunge in the region's banking stocks, with shares in German No.1 Deutsche Bank (ETR: DBK) rallying 3.3% after tumbling 8.5% last session.