Gold Price -3% from $2000 Peak as Stock Markets Bounce Ahead of the Fed
Tuesday, 3/21/2023 14:52
GOLD PRICES fell hard Tuesday, extending the drop from Monday morning's top above $2000 to more than 3% as global stock markets rose, bond yields bounced, and interest-rate forecasts rebounded ahead of tomorrow's March monetary policy decision from the US Federal Reserve.
"It's been a relatively quiet morning," noted Bloomberg UK columnist John Stepek.
"No more banks have blown up. Three cheers for global finance."
Gold priced in the Dollar sank to $1947 per ounce, down more than $60 from yesterday's 12-month high, even as the US currency slipped to 7-week lows on the forex market.
"A pause or pullback (but not a reversal) toward $1950 is likely," said a note overnight from Swiss refining and finance group
MKS Pamp's strategist
Nicky Shiels, pointing to the speed of gold's ascent.
"[But] overall, the Fed will have to choose between higher inflation OR a recession/financial instability and either outcome is bullish for gold, which puts all time highs ($2070) in play."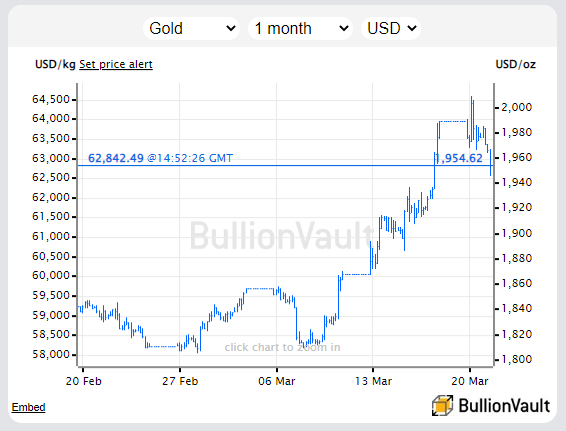 Betting that the US central bank will raise rates on Wednesday rose to 4-in-5 today according to the CME derivatives exchange's
FedWatch tool
, but only for a 0.25-point move rather than the half-point hike expected by 3-in-4 bets less than 2 weeks ago, before
the collapse of Silicon Valley Bank
in the US and then Credit Suisse in Switzerland.
One-in-3 bets on December's Fed decision say the US central bank will end 2023 back down at 4.50%, with almost2-in-5 bets seeing Fed rates being cut below that.
Despite US mortgage costs holding above 6.5% per annum on 30-year fixed rate deals – just shy of last fall's 2-decade peak – new data Tuesday said sales of existing US homes jumped in February.
But inflation in neighboring Canada slowed harder than analysts forecast on February's data today, while economic sentiment in the 19-nation Eurozone has sunk in March according to the ZEW survey.
Last week's half-point hike from the European Central Bank was a "robust decision that needed to be taken" to fight inflation, said ECB president Christine Lagarde in a speech Monday, praising the Swiss authorities for their "swift action" on pushing for UBS to buy CS.
The Euro area's banks are "resilient, with strong capital and liquidity positions," she went on. But the 19-nation central bank still "stand[s]
ready to respond as necessary
to preserve...financial stability."
Silver prices also edged back Tuesday, retreating to yesterday's 2-session floor at $22.25 per ounce after hitting 6-week peaks 50 cents higher.