Gold Prices Hit Multi-Week Lows as UK 'Hints' at Rate Rise, US Risks Syria Stand-Off with Turkey
Thursday, 2/08/2018 17:26
GOLD PRICES bounced $10 per ounce from new 5-week lows against a rising US Dollar in London on Thursday, rallying to $1316 as Western stock markets also fell hard once again.
Commodities held flat, but major government bond prices dropped, driving longer-term interest rates higher.
Benchmark UK Gilt yields neared the highest since March 2016 – back before the shock Brexit referendum result on quitting the European Union – after the Bank of England forecast rising inflationary pressures over the next 2-3 years.
Widely reported as
"hinting" at rate hikes
to come, the Bank however voted unanimously to keep UK interest rates on hold, with no change to its current £445 billion stock of QE bond purchases.
A rally in Sterling nonetheless helped push gold priced in the British Pound down to 8-week lows before it rallied off £935 per ounce.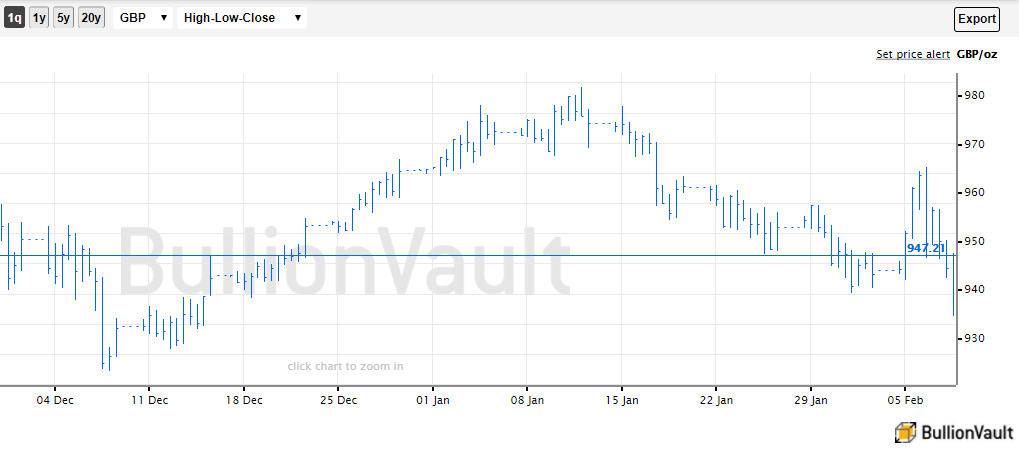 Ten-year US Treasury yields neared fresh 4-year highs at 2.87%, but short-term interest rates held steady as the US Congress
prepared to vote
on approving a two-year budget deal, set to expand military as well as domestic federal spending.
"This is a bipartisan bill. We are going to deliver our share of support," said Republican House Speaker Paul Ryan, aiming to avert a government shutdown as the much-deferred deadline on the US debt ceiling approached yet again,
US troops supporting Kurdish forces in Syria meantime
risk coming into conflict
with fellow Nato-member troops from neighboring Turkey around the town of Manbij, the
New York Times
reports.
Announcing a second summit regarding Syria's future with the leaders of Russia and Iran, Turkey's President Recep Tayyip Erdoğan today said his army's 'Operation Olive Branch' aims to help "our refugee brothers and sisters to
return to their land
, to their homes.
"We are not in the position to keep 3.5 million people here forever."
Turkish officials said Wednesday that Ankara will
amend its anti-terrorist laws
to fit better with European Union expectations, addressing worries around media and academic freedoms so that negotiations can progress on entering the Schengen passport-free area.
But the head of Turkey's union of lawyers says he
was "amazed" to hear Erdogan demand
it remove the word "Turkish" from its name, accusing it - together with the Turkish Medical Association - of "siding with terrorists" in comments over Ankara's strikes against the YPG Kurdish separatists in Syria's Afrin region.
Gold priced in the single currency Euro today held steady, on track for its first weekly gain in five.
Amongst gold investment products, the giant SPDR Gold Trust (NYSEArca:GLD) shrank again on Wednesday, losing 2.5% of its size from late January, when Dollar gold prices began a retreat from 18-month highs.