Gold Price Steady as US Government Shutdown Hits Dollar, Platinum Bulls Jump
Monday, 1/22/2018 14:29
GOLD PRICES
held steady as the Dollar remained weak Monday morning amid the US government shutdown,
writes Steffen Grosshauser at BullionVault
– the first since October 2013.
After recording the 6th weekly gain in succession at the London PM benchmarking, wholesale gold bullion prices traded in a $6 range around Friday's close at $1331 per ounce.
Gold for Euro
and other non-Dollar investors fell again however, with the single currency strengthening to new 3-year highs on the FX market after Germany's SPD party voted to continue their negotiations to build a new coalition government with Chancellor Angela Merkel's CDU/CSU, bringing her closer to a fourth term.
Funding for US federal agencies ran out at midnight on Friday. Although essential services will still run, hundreds of thousands of federal workers are affected after Republican and Democratic leaders failed to break their political stalemate over extending the existing funding plan through 8 February.
"We are getting into a silly season in America," says 2017 gold-price forecast winner Bart Melek, head of global strategy at Canadian brokerage TD Securities.
"[This] government shutdown will hurt the US Dollar and support gold."
Latest data show speculative money managers raising their bullish bets on gold futures and options for the fifth week running in the week-ending Tuesday 16 January.
Bullish betting on platinum prices meantime jumped to an 18-week high net of that group's bearish bets, according to the data from US regulators the CFTC.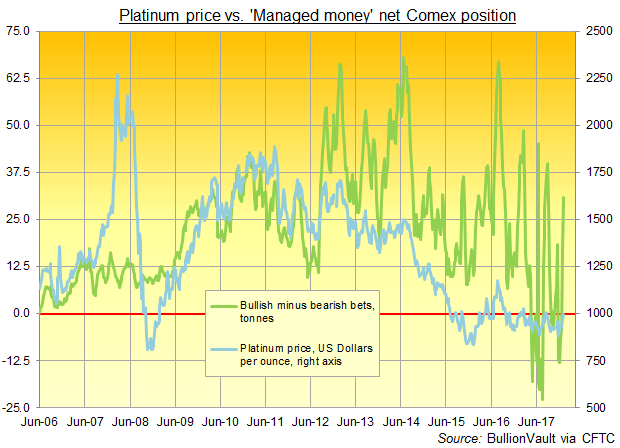 Platinum prices today pushed further towards September's 6-month high at $1022 per ounce, while silver tracked gold prices, oscillating around last week's close at $17.02.
"Silver is lingering between the 100- and 200-day moving averages," reads a note by German refining group Umicore.
European and Asian stocks mostly opened this week slightly higher, while Brent crude oil decreased despite a drop in US drilling activity and a further cap by oil producer Libya.
Troops from Turkey meantime pushed further into Syria, attacking positions held by Kurdish separatists the YPG after Ankara launched its offensive on Saturday having warned the United States against joining forces with what it and ally Russia call
"militant" soldiers in the failed state
.
"While the [US government] shutdown is not expected to last too long," according to a note from Australian bank ANZ, "traders are getting increasingly nervous about its impact on the economy."
The giant SPDR Gold Trust (NYSEArca:GLD), a key investment vehicle for money managers wanting exposure but not ownership of gold, grew 2% last week, expanding 0.7% to 846 tonnes on Friday – its largest size so far in 2018.