Platinum Betting Turns Positive as Gold Bullion Finds Another 'Event-Driven Bid'
Monday, 11/20/2017 13:18
GOLD BULLION slipped together with silver and platinum ahead of the US open on Monday, down 0.5% from last week's 1-month high just below $1300 per ounce as world stock markets fell following the weekend's collapse of coalition government talks in Germany.
With pundits calling it Germany's
"worst political crisis in decades"
, current Chancellor Angela Merkel met this morning with President Frank-Walter Steinmeier after the Free Democratic Party's walk-out threatened to force a second election following September's inconclusive result.
Gold bullion initially spiked back above EUR1000 per ounce as the single currency fell on the FX market, but it then retreated 0.7% from Monday morning's 1-week highs.
European stock markets regained earlier losses by lunchtime, but Wall Street futures pointed lower once more.
Latest data show that money managers grew their speculative betting on Comex gold futures and options by 4.3% last week, net of that group's bearish bets.
That took the 'net long position' in Comex gold to its highest in 6 weeks.
Bullish betting on silver also grew for a second week running,
the same data say
, taking the net long to its highest in 9 weeks.
Platinum betting among the 'Managed Money' category meantime turned positive for the first time in 4 weeks, having first turned negative – with more bearish than bullish bets – this May.
The
price of platinum
today traded $10 below Friday's spike to 2-month highs at $954 per ounce.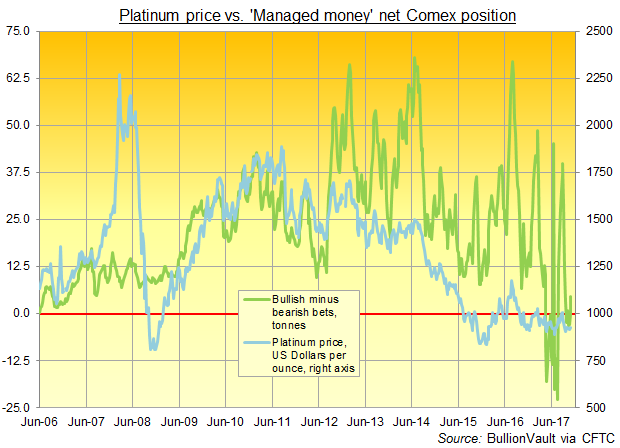 "Platinum continues to portray signs of stabilization," says the latest technical analysis from French investment and bullion market-making bank Societe Generale, pointing to graphical support at $900 per ounce.
"It has formed multiple double bottoms near those levels, however confirmation [of a] corrective recovery is still awaited."
Looking at gold bullion's Asian action Monday, "The initial knee-jerk reaction to the [Germany coalition] headlines saw the Euro lower and a move into the Yen and precious metals," says Swiss refining and finance group MKS Pamp.
"However flows soon tempered and bullion spent the remainder of the session easing back from opening levels.
"Sizeable open interest in December gold [futures contracts] around $1300, coupled with [the US] Thanks Giving holidays this week is likely to see the market capped around [that] figure.
"Event-driven bids seem to be
occurring more frequently
and may be the new normal," says a note from US financial services giant Citigroup.
"Even as the rates and forex channel dominate the outlook for gold pricing, the yellow metal is increasingly being used by investors as a policy and tail risk hedge."