Gold, Platinum and Silver Price Defies 'Commodity Confusion' as Oil and Gas Sink
Wednesday, 1/04/2023 14:51
GOLD PRICES rose to fresh multi-month highs against a weaker US Dollar on Wednesday, gaining 2.9% for New Year 2023 as silver held firm above $24 per ounce and platinum touched its highest since Russia invaded Ukraine, but commodity prices fell as oil and gas sank near 1-year lows amid record January temperatures across Europe.
"National records have
fallen in eight countries
and regional records in another three," says the BBC, with the Alpine ski season currently lacking almost any natural snow.
The UK Met Office last month forecast that following 2022's dramatic highs, 2023 will be
one of the hottest years
on record.
European crude oil fell within $5 per barrel of last month's 1-year low of $75.60, while natural gas contracts for February 2023 dropped over 7% for the day to their lowest since January 2022, down by more than 4/5ths from the highs set during last summer's record heatwave.
US crude and gas prices also dropped near 12-month lows as the north-east's Christmas "bomb cyclone" was followed by forecasts of above-average temperatures ahead.
Gold prices in contrast rose to $1865 per ounce, the highest since last June, while the
price of platinum
– which currently finds the bulk of its productive use in auto-catalysts to reduce emissions from diesel engines – came within $3 of $1100, up by one-third from last August's 2-year low.
"A
confused picture
for commodity trends. Precious metals going nuts as energy slumps," says former HSBC fund manager and now founder of crypto-data provider Bytetree Charlie Morris.
Maybe it's an "if oil goes down, inflation goes down, so interest rates go down, so buy gold again" trade, suggests Bloomberg columnist John Stepek.
Despite last year's
flat-line in gold prices
and surge in energy costs, the yellow metal – as tracked by the GLD bullion-backed ETF – has significantly outperformed crude oil as tracked for investors by USO trust fund over the last half-decade.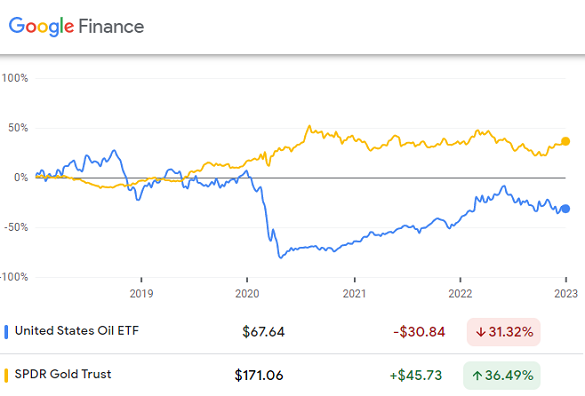 Betting on the Fed's next decision in February now
sees a 3-in-4 chance
that the US central bank will raise rates by only 0.25 percentage points, the smallest increase since 'lift off' began last March.
With such a move putting
the Fed Funds rate
at a ceiling of 4.75%, betting on December 2023 now sees a better than 7-in-10 chance that US rates will then end the year unchanged.
After Germany's inflation data for December missed forecasts on Tuesday – down almost 2 percentage points from October's 7-decade high of 10.4% - figures from France today defied analyst forecasts to show the cost of living in the Eurozone's 2nd largest national economy slowed its rate increase last month, up 6.7% on an annual basis.
"There is
no wave of bankruptcies
," said finance minister Bruno Le Maire to Inter radio today when asked about a report claiming that 80% of France's bakeries are risking closure over "insane" energy costs, forecasting that inflation will continue to decline across 2023 while stressing the electricity-price subsidises already being offered to small and independent businesses.
"The favourable moves in energy prices suggest there
may be light
at the end of the tunnel," says one French economist.
Hit by sanctions over its invasion of Ukraine, Russia's exports of natural gas to nations outside the former Soviet Union sank almost in half in 2022, new data said Monday.
Moscow's Moex stock index has
flat-lined so far this week
after rallying 11% from September's 5-year lows and losing almost half its Ruble value across 2022 after the Kremlin's finance ministry said Friday that foreign investors from "unfriendly" countries can only sell Russian assets for half price, with the government taking up to 10% of every transaction to try filling a yawning budget deficit.
Admitting to higher casualties than first accepted in Ukraine's missile strike on troops stationed in Makiivka – a loss spurring unprecedented media attacks against Russia's military leaders – Moscow
today blamed the troops themselves
for using mobile telephones and so revealing their location to Kyiv's forces.