Gold's Dollar Link Strongest in 2 Years Amid 'Warsh Fed' Talk, Investing via GLD Shrinks 1st Time Since Sept' Peak
Tuesday, 10/03/2017 13:33
GOLD INVESTING prices fell to new 7-week lows against a rising Dollar on Tuesday in London but held little changed against other major currencies as world stock markets rose and debate raged over who US President Trump will appoint as chair of the Federal Reserve.
Asian equities (ex-China, shut all week for National Day) gained after New York's S&P index set a third record-high close in succession overnight.
European stocks also edged higher, but Spain's Ibex 35 fell for a second day amid
a general strike in breakaway region Catalonia
after the 90% 'yes' vote by 2.2 million people in Sunday's illegal independence referendumin saw 900 injured by police.
Government bond prices meantime fell once again, pushing the annual yield offered by 10-year German Bunds up towards 3-month highs at 0.48%.
Ten-year US Treasury yields ended Monday at 2.35%, the highest investing return offered since mid-July.
Touching $1268 in spot trade this morning – the lowest price since mid-August – gold fixed at London's AM benchmarking at $1270.70 per ounce, but was hardly moved in Euro or Sterling or Yen terms.
More than 5.9% below the 12-month high hit 3 weeks ago, the
gold price in Dollars
has now fallen at its fastest pace since last December.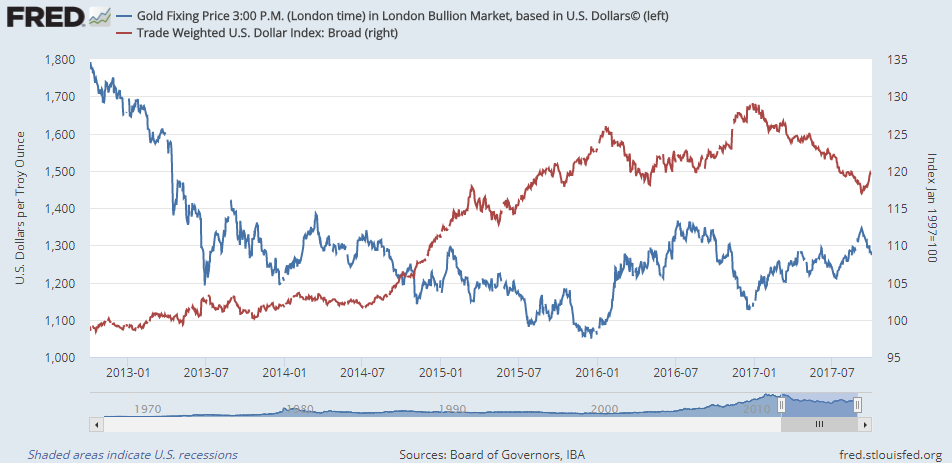 September saw the gold price move more in opposition to the Dollar's broad exchange-rate value than any time since August 2015.
On a rolling 1-month basis, the metal showed an average daily correlation last month of -0.87 with the broad trade-weighted USD index.
The most negative reading in more than 2 years, that compares with an average reading of -0.45 across both the last decade and since 1997.
"If, as we suspect, [Donald Trump] reappoints Yellen it might take a bit of the recent shine off the Dollar," says Chinese bullion bank ICBC Standard's FX strategist Steven Barrow.
"[But] as we have said for some time, it is likely to be fiscal policy that sets the tone for the Dollar going forward, not monetary policy...[and] we see this recent rise as nothing more than a short-term deviation from the longer-term downtrend."
"[Warsh] got a rousing reception from the audience as he talked a lot of sense...In particular Warsh warned that the Fed had become the slave of the S&P."
Apparently interviewed by Donald Trump along with 3 other candidates at the White House last week, former Fed governor Warsh is
now ahead of incumbent chair Janet Yellen
in the betting for who will take the top post next February.
Gold investing exposure through the metal-backed SPDR Gold Trust (NYSEArca:GLD) shrank 0.6% on Monday as bullion prices fell $10 per ounce, leading the trust to cut 5 tonnes of gold from last week's 3-month high of 864 tonnes.
That was the first time the GLD shrank since bullion prices peaked back on 8 September.