Gold Prices Hit 10-Month Euro Highs as Surging Nat Gas and Crude Oil Question 'Transitory' Inflation
Monday, 11/08/2021 14:26
GOLD PRICES steadied at 2-month highs against the US Dollar Monday lunchtime in London, while gold for UK and European investors hit new 5-month and 10-month highs as interest-rate expectations continued to recede despite inflation taking center-stage on a fresh surge in oil and gas prices, writes Atsuko Whitehouse at BullionVault.
Spot gold prices for US investors edged back $5 per ounce from Monday morning's new 2-month high of $1821, trading firm after
rising 1.9% last week
.
"[Today's price] extensions follow a strong end of week rally," says derivatives platform Saxo Bank's commodity strategy team.
"Despite the stronger Dollar, [that] was
driven by the dovish [US] FOMC
and Bank of England meetings, and a strong US jobs report pointing to increased wage pressures."
"The market's attention is shifting from the US jobs situation to rising inflation," says Bruce Ikemizu, chief director of the
Japan Bullion Market Association
.
Last month's US consumer price index will be released on Wednesday, and is predicted to show 5.8% inflation from October last year.
That would mark a step up from the 5.4% recorded in September and be the highest level since 1990.
Natural gas prices surged in Europe today as supplies via a key Russian pipeline were reported well below normal despite an order to boost westward flows from President Vladimir Putin in Moscow.
The Dutch TTF December contract, a European benchmark of natural gas, rose over 10% to touch €81.00 per megawatt hour Monday morning before edging back.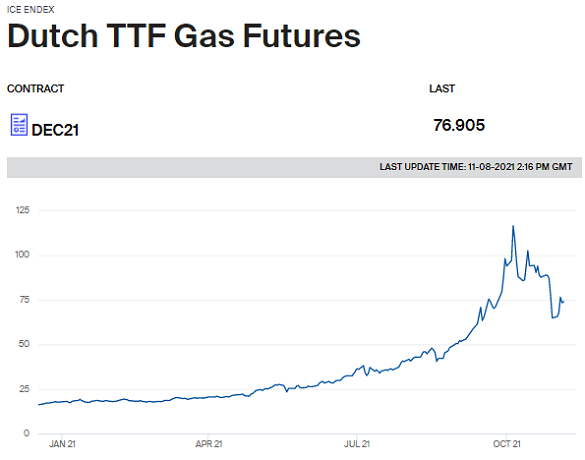 European gas prices have more than tripled this year as Russia keeps supplies capped just as liquefied natural gas cargoes are being diverted to higher-paying buyers in Asia.
UK gold prices today recorded a new 5-month high at £1350 per ounce after surging 3.2% last week, before easing down to £1341.
Gold prices for European investors meantime recorded a 10-month high at €1575 per ounce, adding to last week's 1.8% rise.
President Vladimir Putin
last month told the head
of Kremlin-controlled energy giant Gazprom Alexei Miller to start pumping natural gas into European gas storage once Russia finishes filling its own stocks – something expected to have happened by today, November 8.
Oil prices also rose on Monday with European Brent crude up 1.1% at $83.65 a barrel and US oil gaining 1.4% to $82.40 per barrel, reversing much of last week's decline even as the US White House says it
may release supplies
from the government-controlled Strategic Petroleum Reserve.
Saudi Arabia late on Friday raised the December price of its benchmark crude for customers in Asia higher than analysts expected.
The move came after the Organization of the Petroleum Exporting Countries and its Opec+ allies led by Russia decided last week not to speed up their planned production increases.
"But it is also clear that the risk of a prolonged period of elevated inflation has increased.
"The argument for patience in the face of these inflation pressures has diminished."
The US Dollar Index, measuring the greenback's exchange-rate value against a basket of six peer currencies, edged down on Monday but kept just below Friday's peak, hit after October's strong Non-farm Payrolls report.
Gold prices on the Shanghai Gold Exchange meantime soared to 2-month highs at ¥375 per gram on Monday, and continued to show a premium to London quotes.
But that incentive for new imports to the precious metal's No.1 consumer nation eased to just $1 per ounce.
Last week's Diwali festival saw physical gold demand in India, the No.2 bullion consumer nation, jump sharply, with dealers charging a premium of up to $1.50 over official domestic prices – inclusive of the nation's 10.75% import and 3% sales levies – up from the previous week's premium of $0.50 per ounce.