Gold Price Sinks with Stocks as Strong US GDP and Inflation Data Fight 'Hawkish' Fed
Thursday, 12/22/2022 16:00
GOLD PRICES erased this week's gain for Dollar investors on Thursday after new US GDP, jobs and inflation data came in stronger than expected, raising bets that the Federal Reserve will persist with more interest-rate hikes in 2023.
US and European stock markets also fell hard after the
Bureau of Economic Analysis said
the world's largest economy expanded at an annualized 3.2% pace in the July-to-September quarter, higher from the BEA's previous 2.9% estimate and more than reversing the drop of Q1 and Q2.
Third-quarter inflation on both the GDP Price Index and the PCE measure also accelerated, while jobless benefit claims showed a drop on the latest weekly data.
Falling back to $1795 per ounce after re-touching last week's 5.5-month highs near $1824 yesterday, the Dollar gold price headed for a pre-festive finish in line with last year's level but 4.1% below 2021's record Christmas Eve high.
Beaten down by the Bank of
Japan's surprise monetary policy 'tightening'
on Tuesday, the Dollar rallied on the currency market following the GDP and PCE figures, adding almost 1% from the 7-month lows hit over the last week on the US Dollar index.
Earlier gains in Asian stock markets were more than reversed by a steep drop in Frankfurt, Paris, London and New York, with the MSCI World Index dropping 1.3% to trade 1/5th below last Christmas's all-time high.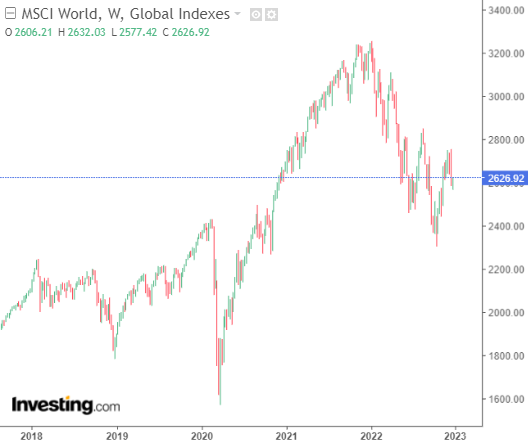 "The economy is not giving up too easily and it's putting up a fight that will likely require the Fed to remain hawkish and keep interest rates higher for longer."
While the bulk of betting on the Fed's February meeting still sees a 'baby step' quarter-point rise to 4.75%, betting on another half-point hike rose to 29.0% of positions according to
data from the CME derivatives exchange
.
Betting on end-2023 rates also saw a hawkish tilt, with traders putting the odds of the Fed finishing next year higher from today at 41%, up from 37% yesterday.
Euro gold prices also erased this week's previous spike to trade back below €1695 as Germany's 10-year borrowing costs rose to 6-week highs above 2.36% per annum, rising more than half-a-point from 2 weeks ago.
Despite weak UK GDP data on Thursday, long-term UK borrowing costs also rose, touching this week's 3-month highs above 3.90% per annum in 30-year Gilts – the highest since the 'mini budget' disaster starting in late-September.
But weakness in the British Pound saw the gold price for UK investors hold firm, up nearly £30 per ounce for the week so far at £1494 after testing 2-month highs near £1510 this morning.
Crude oil prices flattened after rising 3 sessions running and touching the highest so far this month at $83 per barrel of Brent after new data Wednesday said that
US stockpiles were drawn down more much more heavily
than analysts expected last week ahead of the Christmas season.
European natural gas prices in contrast fell yet again, dropping to fresh 7-month lows on Feb '23 contracts.
Silver prices
meantime lost 2.4% from yesterday's new 8-month Dollar high but held firmer than gold for the week so far, trading at $23.65 per ounce.