Gold Spikes, Silver Holds $23 as Opec Fights Oil's 'No Inflation Signal' Ahead of Fed Minutes
Wednesday, 7/05/2023 16:32
The GOLD PRICE fell back from a sudden 2-week high Wednesday as global stock markets slipped ahead of today's release of meeting minutes from the US Fed's latest interest-rate rise but crude oil extended its 5-session rally after major producer Saudi Arabia said its rolling cuts to output will and Russia said they will continue curbing output and exports.
Silver prices
in contrast to gold held onto a 2.2% jump, slipping just 10 cents from its sudden 2-week high of $23.30 per Troy ounce.
"Tools in our kit are working [to overcome]
exaggerated negativity
emanating from [market] traders," said Saudi energy minister Prince Abdulaziz bin Salman at the Opec oil cartel's International Seminar in Vienna today.
Rising to $77 per barrel of Brent crude as US traders returned from yesterday's Fourth of July holiday, oil has since the start of May traded in a $7 range above $71 – a level previously seen at the end of 2021.
"Powell maintains his stance and gold drops every time he says so," says a note from bullion-market specialist Rhona O'Connell at brokers StoneX of the Federal Reserve's chairman repeating again last week that he expects the US central bank to raise and keep interest rates
higher for longer
to defeat inflation.
"Certainly no inflationary signals are stemming from the commodity space," says Swiss refining and finance group MKS Pamp's strategist Nicky Shiels, pointing to the steep year-to-date losses in raw material prices.
Over the last half decade, 5-year market-based inflation forecasts have shown a strongly positive correlation with US WTI crude oil prices, reading 46% on the r-squared coefficient of 52-week prices.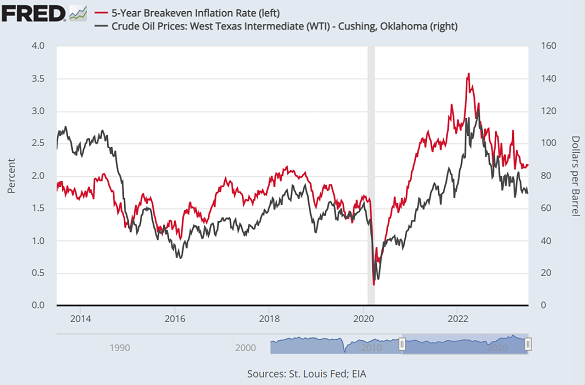 Wednesday's action saw crude oil down 13% so far in 2023, US natural gas and corn down 25%, wheat 18% and aluminum 10%, but copper is now unchanged from New Year, albeit 12% below February's high.
Gold priced in Dollars meantime spiked to $1935 per Troy ounce – up 6.6% for 2023 so far – as data for US factory orders from May badly missed analyst forecasts, adding to this morning's gloomy services-sector surveys for June from Japan and the Eurozone.
But the gold price then fell hard into the London afternoon benchmarking auction, dropping towards $1920 to erase most of this week's prior 1.2% gains to date.
Despite this week's rally in energy prices, extended by Monday's news of Saudi Arabia continued to curb output into August while Russia cuts oil exports, crude remains $3 per barrel below where it was immediately before the Opec+ cartel first announced
a joint output cut of 1 million barrels per day
back at the start of April.
"As the global oil central bank we attend to our mission," tweeted Prince Abdulaziz earlier today. "And
we still have more tools
in our kits."
The price of
crude oil briefly went negative
during early 2020's first-wave Covid Crisis as a price war between Russia and Saudi Arabia compounded the collapse of global demand resulting from pandemic lockdowns.
Oil last year then surged towards its record 2008 peaks above $135 per barrel after major producer Russia began its latest 'military operation' against Ukraine.
Natural gas contracts for August 2023 have now rallied by more than 40% from start-June's 21-month lows, but remain at barely 1/10th last summer's peak to the Russia-Ukraine peak.
"Gold is struggling to maintain strength," says a note from analysts SFA (Oxford) produced for German bullion refining and technology group Heraeus, "as market uncertainty from the [US regional banking crisis] in May has dissipated."
Platinum prices on Wednesday held onto their 2.8% bounce from last week's new 9-month low, rallying back above the $900 level.
Sister-metal palladium – which finds 9/10ths of its end-use demand from autocatalysts for reducing harmful emissions from gasoline engines – meantime held around $1240 per Troy ounce, the cheapest since December 2018.