Market Sees 70% Chance of Fed Rate Rise in March, Gold Price 'Less Vulnerable' Than Nasdaq or Bitcoin
Monday, 1/10/2022 14:39
GOLD PRICES edged lower on Monday ahead of this week's key US inflation data as longer-term interest rates rose near their highest in 2 years and the market priced in 4 hikes to short-term rates in 2022 from the US Federal Reserve, writes Atsuko Whitehouse at BullionVault.
Spot gold prices fell 0.2% to $1792 per ounce Monday lunchtime in London, extending last week's 1.7% drop following
'hawkish' comments
in the US Federal Reserve's latest meeting notes.
Ten-year US Treasury yields – a benchmark rate for government as well as many finance and commercial borrowing cost – rose 2 basis points to 1.79%, the highest since January 2020.
That 10-year rate had already surged by 27 basis points last week, equivalent to one whole rate hike by the Federal Reserve and the biggest jump since late 2019.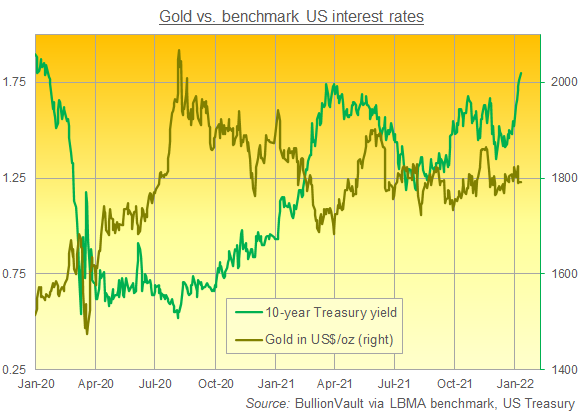 "Yields have climbed further overnight with the
market starting to price
in four Fed rate hikes in 2022, starting as early as March," says derivatives platform Saxo Bank's commodity strategist Ole Hansen.
After last week's release of Fed meeting minutes suggested the possibility of an earlier rate hike than expected, markets have
shifted to put a 70% chance
on the US central bank making its first post-Covid rise in March, up from 1-in-3 a month ago.
Traders then put a 50% chance on 3 additional hikes by year end, according to the CME's FedWatch tool.
This Wednesday's US consumer price index data
will show core inflation climbing
to its highest in decades at 5.4% says the consensus forecast from economic analysts, ushering in that rate rise as soon as March.
US inflation across the next decade, as implied by US Treasury bond trading, rose Monday to 2.53% after dropping to its lowest in more than 2 weeks at 2.46%.
That 'breakeven' rate calculated from 10-year TIPS yields climbed to 2.76% last November, the
highest since May 2004
.
"Gold and silver are traditionally rate-sensitive asset classes, but
prices are dependent
on whether the Fed is ahead/behind inflation," said a trading note from Swiss refining and finance group MKS Pamp earlier.
"Fundamentals matter more in higher interest rates," says MKS, "[and] overvalued, unprofitable, and overinvested asset classes stand to lose the most as the market transitions from the 'fear of tapering' to the 'fear of more aggressive rate hikes'.
The real interest rate implied by inflation-protected 10-year TIPS bonds edged down to minus 0.76%, after increasing nearly 30 basis points from the start of 2022 to a 8-month high.
"Gold is relatively neither overvalued nor overinvested vs tech or Bitcoin," the MKS note concludes, pointing out that the Nasdaq index of US technology stocks has outperformed gold's 20% gain 6-times over since the gap between market-implied inflation and interest rates accelerated further into negative territory in March 2020, with ultra-loose monetary policies imposed to support emergency fiscal economic aid in response to Covid.
Having hit 89 fresh all-time record highs since the Covid Crisis began almost 2 years ago, the Nasdaq 100 index lost 4.5% in the first week of 2022.
European stocks also retreated further on Monday as the pan-European Stoxx600 slipped 0.1% after losing 1. 8% from its own latest record high last week after December's inflation data showed the cost of living for the 343 million residents of the 19-nation Eurozone rising at a single-currency record of 5.0% per year.
Gold prices for European investors edged higher by 0.2% on Monday to €1584 per ounce as the single currency weakened once more against the US Dollar, but a board member of the European Central Bank commented that
the ECB should stop
"looking through" high inflation and act to temper price growth.
The
UK gold price
meanwhile edged down by 0.1% to £1320 per ounce as longer-term Gilt yields rose back towards October's post-Covid Crash highs of 1.20% per annum on 10-year bonds.