Gold Slips Below $2000 as 'Challenge' of Fed Rates Offsets China-Taiwan Tensions
Tuesday, 4/11/2023 14:25
GOLD PRICES slipped back below $2000 on Tuesday and silver failed again to hold $25 per ounce as London's wholesale bullion market re-opened after the long Easter weekend brought solid US jobs data, boosting expectations for further Fed rate rises ahead, plus the strongest threat yet that China is preparing to invade Taiwan.
Slipping to $1998 after trading above $2000 per ounce around the 10:30 London AM benchmarking auction, the gold price has now fixed above $2000 per ounce for 4 trading days running, matching
the record stretch
of 5-10 August 2020.
Silver prices meantime retreated 10 cents to $24.90 per ounce as global stock markets ticked higher overall and crude oil held above $85 per barrel of European benchmark Brent for the 6th session running since the
Opec producers' cartel announced joint output cuts
to "stabilize" the market.
The world's largest economy added 236,000 jobs in March, US data said Good Friday, the fewest since December 2020 but in line with analyst forecasts and enough to pull the unemployment rate down to 3.5%, close to January's 54-year low.
Betting that the Federal Reserve will now raise its key interest rate to 5.25% at its May meeting has
jumped from 1-in-2 towards 3-in-4
since Friday's jobs data was released.
But more than 98% of all bets on December's decision now see the Fed starting to reverse its hikes sometime between May and Christmas, with the consensus bet now putting end-year rates at 4.4%, some 0.7 percentage points below the US central bank's own forecast.
"With the G10 central banks and the Fed likely to have reached terminal [ie, peak] rates by the middle of this year," says a note from the wealth management division of German financial services giant Deutsche Bank, "we believe gold prices
should remain strong
" with further support coming from "strong demand" among central banks "likely to continue".
"Gold benefits from USD weakness and central-bank buying," agrees the latest monthly chartbook from global bank and London bullion clearer HSBC, "but mining output is rising and real yields are a challenge" – meaning the rate of interest offered by cash and longer-term bonds after you account for inflation.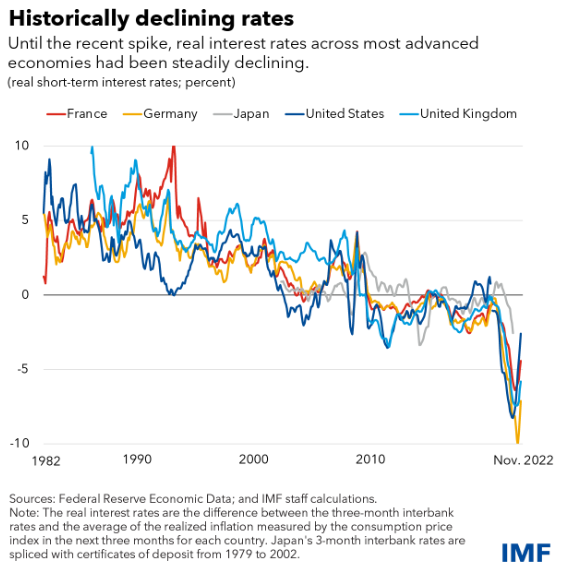 "How close will depend on the persistence of public debt, on how climate policies are financed and on the extent of deglobalization."
With US inflation data due out on Wednesday, new data from China today said that the world No.2 economy's cost of living fell for a 2nd month running in March,
dropping back to a level first reached
at New Year 2017 on the National Bureau of Statistics' consumer price index.
China's "subdued" cost of living comes "in
sharp contrast to the persistent global inflation
" says the Communist dictatorship's Xinhua news agency, calling it "conducive for government to maneuver easing monetary policy to stimulate domestic demand."
New bank lending in China doubled in March from February as the authorities cut the reserve ratio requirement and permitted the spread of 'relay loans' where
borrowers as old as 95
can now pass their mortgage debt onto their heirs.
That took the Q1 total for new commercial-bank lending to a quarterly record worth $1.5 trillion – and equal to around 1/3rd of January-to-March's national economic output –
rising 27% from the previous record
sum of new lending extended in the same period a year ago.
Across the first 2 months of 2023, and including strong Chinese government demand for gold, "central banks have reported net purchases of 125 tonnes," says a blog post from specialist analyst Krishan Gopaul at the mining industry's World Gold Council – "the
strongest start to a year
back to at least 2010, when central banks became net buyers on an annual basis."
Among private-sector consumers, in contrast, "Physical sales are
down across the globe
" thanks to the jump in prices above $2000, Reuters quotes Joseph Stefans, group head of trading at Swiss bullion refining and finance group MKS Pamp.
"This is seeping into Asia. Demand is starting to taper at higher price levels."
Chinese prices last week averaged a premium to London quotes of $7.55 per ounce, sharply below early March's 6-month highs but holding in line with the long-term average incentive to new bullion imports.
Gold in India has however
traded at a discount
to global prices for 5 months without pause according to data and calculations from the WGC, and now – with less than 2 weeks until the now
key spring festival of Akshaya Tritiya
– is offered to domestic buyers at $25 per ounce below London quotes.