Gold ETF the GLD Expands Most in 18 Years as Stock Markets Slump in Face of US Fed's Inflation Rate Hikes
Monday, 1/24/2022 15:05
GOLD PRICES gave back an early $10 gain Monday lunchtime in London, holding around last week's 2-month highs as global stock markets sank following the rout on Wall Street, Bitcoin halved from its record peak, Russia-Ukraine tensions worsened, and the world's largest gold ETF, the GLD trust fund, saw its biggest one-day inflow by value since listing in 2004, writes Atsuko Whitehouse at BullionVault.
"In one day, the outflows of the past five months have been recovered," says Koichiro Kamei, a financial and precious-metals analyst, in his
latest note
to Japan Gold Metal Association.
The SPDR Gold Trust (NYSEArca: GLD) expanded on Friday to have the most shares in issue since August, needing an additional 27.6 tonnes of bullion backing from Thursday's closing level, worth $1.63 billion.
That's the biggest 1-day gain by weight for the world's largest
gold ETF
since 21 September 2020 and the biggest 1-day growth in Dollar terms since listing almost 18 years ago.
Last week's total GLD expansion of 32.3 tonnes was meantime the biggest growth by weight since the week ending 26 March 2020, near the depths of the Covid Crisis crash in global stock markets.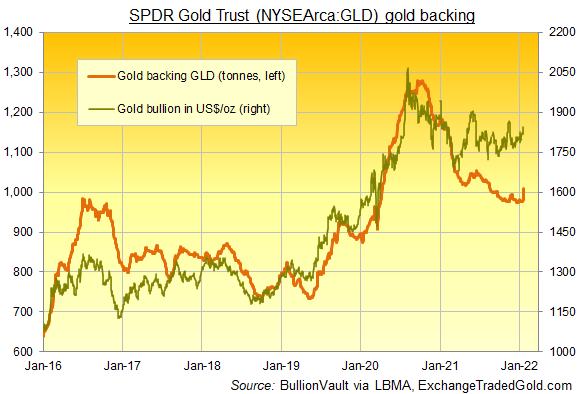 "The stability of gold shines through," says Kamei, contrasting gold's solid pricing with so-called crypto-currency Bitcoin losing half its Dollar value since November's record high "amidst the prospect of a hawkish Fed reducing the amount of surplus funds available."
"The recent surge in market volatility, the rise in geopolitical tensions and the slump in crypto prices most likely increased the appeal of gold as safe haven," a gold strategist quoted by Bloomberg agrees.
Gold bullion prices today held in line with the weekend's level, trading above $1835 per ounce after posting a 2nd straight weekly gain as longer-term US bond yields continued to retreat from their jump to pre-Covid Crisis levels.
The GLD shrank to need 195 fewer tonnes last year, the biggest annual outflow in tonnage terms since 2013 after expanding 278 tonnes during the Covid Crisis of 2020 – the largest annual inflow since it was launched in 2004.
On the geopolitical front,
the UK
and
US this weekend
ordered partial withdrawals from their embassies in Ukraine, warning of a rising threat of Russian military action against the country.
Moscow's stock market
sank over 7%
by Monday lunchtime, while the Russian Ruble plunged to a 14-month low against the Dollar on the FX market.
European equities also fell sharply, with the pan-European Stoxx 600 down 2.7%, on track for the biggest 2-session slump since June and following Wall Street's slump last week in the face of solid betting that the US Federal Reserve will raise interest rates in 2022 because of soaring inflation.
The US central bank's Federal Open Market Committee (FOMC) is scheduled to meet on Tuesday and announce policy on Wednesday, but few traders expect any hike to rates before March.
Ahead of today's New York session, US equity futures slipped on Monday after the tech-heavy Nasdaq Composite index fell 7.6% last week, its biggest slide since the coronavirus pandemic rocked US financial markets in March 2020, while the blue-chip S&P 500 index shed 5.7% over the past week.
Global equities last week lost 4.2% on the FTSE All-World index of developed and emerging market shares.
Bitcoin, the largest 'digital asset' by market value, fell below $34,000 over the weekend after Russia's central bank
proposed a blanket ban
on the use and creation of all cryptocurrencies within one of the world's biggest crypto-mining nations, citing the dangers posed to the country's financial system and environment.
Meanwhile, crude oil rose on Monday on worries about supply disruptions about Russia-Ukraine discord and rising tensions in the Middle East after the United Arab Emirates intercepted and destroyed two Houthi ballistic missiles targeting the Gulf country following the Yemeni rebels'
deadly attack a week ago
.
Brent crude rose 0.4% to $88.22 per barrel, while US West Texas Intermediate (WIT) crude gained 0.3% to $85.38.
Silver prices
meantime fell 1.5% to $23.70 per ounce after the primarily industrial precious metal rose 5.8% last week.
In contrast to gold ETFs, the giant iShares silver ETF trust (NYSEArca: SLV) continued to liquidate last week to mark its 5th consecutive weekly outflow, shrinking to the smallest in 18 months as prices rose to 2-month highs.
Platinum, which finds two-thirds of its demand from industrial uses, led by auto-catalysts, also slipped, down 0.5% to $1028 per ounce, following a climb of 6% last week.
The Dollar Index – a measure of the US currency's value versus its major peers – rose 0.4%, reversing Friday's pullback.