Gold ETFs Swell to 18-Month Peak But Comex Bulls Retreat as Russia 'Commits War Crimes' in Ukraine
Monday, 4/04/2022 14:24
GOLD PRICES steadied on Monday after speculators in Comex derivatives cut their bullishness back to a level seen before Russia invaded Ukraine but gold ETFs grew to their largest size in 18 months as Moscow was accused of war crimes, writes Atsuko Whitehouse at BullionVault.
Spot gold prices in US Dollar terms edged 0.3% higher to $1930 per ounce today after falling 1.7% last week following a solid US jobs and wages report for March.
Wholesale bullion prices in the spot market also held firm for UK and Euro investors, edging higher at £1470 and €1751 respectively as the
European Union prepared
to introduce more sanctions against Russia following reports that retreating troops murdered 300-400 civilians in the outskirts of Kyiv.
"Gold remains stuck in a major $1890 to $1950 range," says derivatives platform Saxo Bank's commodity strategy team in
its latest note
, pointing to "headwinds from rising bond yields amid the prospects for more aggressive monetary policy tightening."
Against that, "investors [are] worried about the growth outlook, inflation, and current stock and bond market volatility."
Ten-year US Treasury yields – a benchmark rate for government as well as many finance and commercial borrowing costs – steadied near 2.38% Monday lunch time in London, the highest level since May 2019.
But with global stock markets suffering their
worst quarterly performance
from January to March since the Covid Crash of early 2020, investment in gold-backed ETF trust funds has increased sharply
according to data
from the mining-industry's World Gold Council.
Gold ETF
inflows for the first 3 weeks of March were
5 times the inflows of February
, taking the total quantity of bullion needed to back the growing number of shares in issue for such products worldwide to 3,828 tonnes, the highest since October 2020.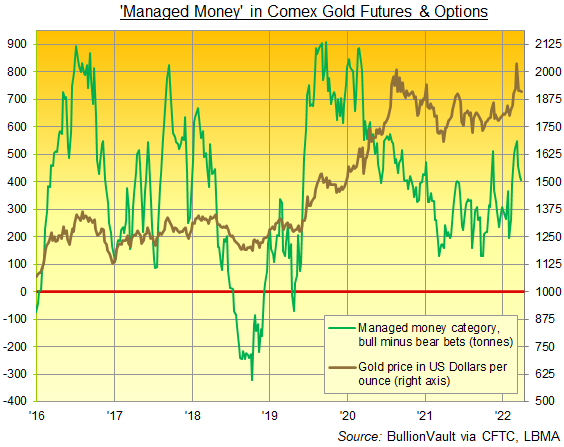 Hedge funds and other leveraged speculators in Comex
gold futures
and options in contrast cut their bullish betting by 26% in the 3 weeks ending last Tuesday, data from US regulators the CFTC say.
The contrasting directions of Comex gold and gold ETF investments "reflect the current short versus long-term battle," says Saxo's Strategy Team.
"Expectations for a rate hike are driving gold lower," reckons Bart Melek, head of commodity strategies at Canadian brokerage TD Securities.
However, "Fed policy has
a long way to go
to be even neutral...and gold is going to continue to be fairly firm."
"The case for 50, barring any negative surprise between now and the next meeting, has grown," said San Francisco Fed President Mary Daly in an interview published on Sunday, referring to the odds of the US central bank raising its key rate by half-a-percentage point at next month's meeting.
Daly is not a voting member of the rate-setting Federal Open Market Committee in 2022. She estimates the neutral policy rate for inflation and growth to be between 2.3% and 2.5% versus its current 0.50% level today.
"We need to get close to neutral, but we
need to watch
the whole way," says New York Fed President John Williams, a voting member.
"There is no question that is the direction we are moving. Exactly how quickly we do that depends on the circumstances."
Meeting minutes from the Fed's March meeting – when it raised overnight interest rates from zero in the face of inflation running at 4-decade highs above 7% per year – will be released this Wednesday.