Gold Hits 13-Week Friday High as Dollar, Rates Sink After US Inflation Data
Friday, 11/11/2022 16:28
The GOLD PRICE ended Friday in London with a $90 weekly gain, its strongest move since July 2020, as the US Dollar fell hard yet again with longer-term interest rates following the weaker-than-expected US inflation data.
Longer-term US interest rates have also sunk as bond prices have leapt, pulling 10-year Treasury yields down to 5-week lows at 3.81% per annum.
Gold bullion traded in London above $1760 per ounce around today's PM benchmarking auction, up 5.4% from last Friday's Fixing to the highest weekly finish since mid-August.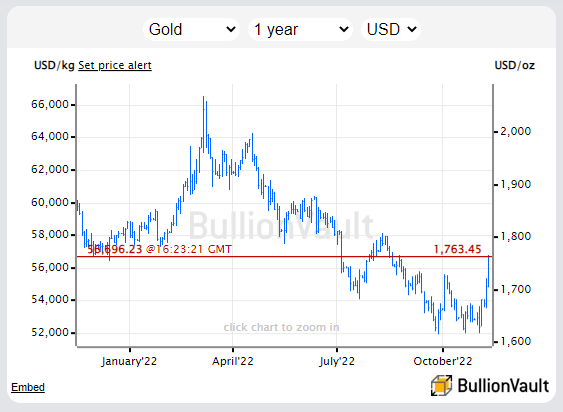 Betting in the futures market today continued to put the odds of the Fed raising by only half-a-point at next month's meeting – snapping its historic run of 3/4-point hikes – at 85%, unchanged from Thursday but stronger by 1/3rd from this time last week.
Compared to this time last month, the odds of Fed rates ending 2023 at 5.0% or above have sunk from nearly 2-in-3 to barely 1-in-5 according to the CME derivative exchange's
FedWatch tool
.
Trading at $1.03 today after jumping through $1.00 on the release of yesterday's
US inflation data
, the Euro has now traded above parity for the longest stretch since mid-September.
The UK Pound has meantime risen to 2.5-month highs, up 14.8% from its record low of late-September's disastrous UK '
mini budget
'.
Those currency rallies still saw solid weekly gains for gold priced in Euros and Sterling, up 1.4% and 1.3% respectively.
"A risk-on tone was sparked by weaker than expected inflation data in the US," says Australasian bank ANZ's commodity strategist
Daniel Hynes
, pointing to this week's rally in industrial and energy prices.
"Sentiment was also boosted after Chinese leaders advocated a more targeted pandemic approach."
For gold, "The market quickly priced-in a slower rate hike by the Fed in December...boosting investor demand for the precious metal."
However, while investor interest in the giant GLD gold ETF expanded to show a 0.5% weekly inflow on Thursday, the No.2 gold ETF – the IAU product – continued to show 0.5% weekly outflows, on track for its 11th week-to-week drop in a row.
The volume of Comex futures and options trading, in contrast, yesterday jumped to the biggest in 10 months.
In contrast to gold prices, silver slipped back on Friday after touching new 5-month highs above $22 per ounce, cutting the week's gain to 7.5% in US Dollar terms.
Global stock markets meantime extended their rally as Russia's troops continued their 'panic' withdrawal across the Dnieper as Ukrainian forces entered the city of Kherson, welcomed as 'liberators' according to
local reports
.