Gold Bullion Hits Worst 1-Week Dollar Price Drop of 2018, Turkey-US Tensions Worsen in Syria
Friday, 2/23/2018 14:27
GOLD PRICES in the global wholesale center of London headed for the steepest 1-week drop of 2018 so far on Friday, holding a 1.7% loss against a stronger US Dollar as major government bond prices edged higher again from this month's sharp sell-off, nudging interest rates down.
Failing to set a 4-year weekly closing high last Friday above $1354, gold prices today held around $1329 per ounce as the US Dollar retained most of this week's rally on the forex market.
Tensions between Nato members the United States and Turkey – the world's 5th largest gold buying nation – meantime worsened further as
Ankara said its army bombed a convoy
of vehicles from the US-backed YPG Kurdish forces in the eastern Syrian region of Afrin.
"The summer will be hot for the terrorist organization
and those that support it
," Turkey's President Recep Tayyip Erdoğan today warned Kurds wanting a united breakaway state across the borders of Turkey, Syria and Iraq.
"Some of the forces we are working with in the east [of Syria] we are seeing
starting to go to Afrin
," confirmed State Department spokeswoman Heather Nauert yesterday.
Commodity prices slipped Friday as European stock markets failed to follow Asian equities higher.
With bond prices up, the interest rate offered to new buyers eased back, but the benchmark US 10-year Treasury yield held on track for its highest weekly close since January 2014 at 2.89% per annum.
Among gold-backed exchange-traded vehicles, the giant SPDR Gold Trust ETF (NYSEArca:GLD) has expanded by 0.9% as gold prices have held unchanged over the last 8 trading sessions.
That has seen the quantity of gold bullion needed to back the GLD's shares in issue recover 7 tonnes from mid-February's six-month low of 820 tonnes.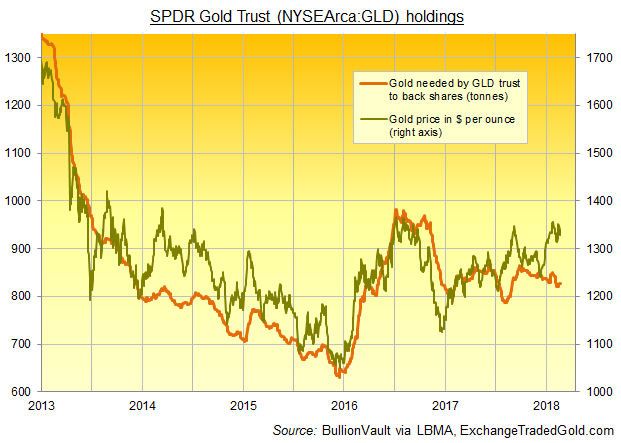 The last month's 3.0% drop in Dollar silver prices, meantime, has seen the giant iShares Silver Trust ETF (NYSEArca:SLV) expand by 0.7% to need 9,806 tonnes of bullion backing.
Gold prices in Hong Kong
edged 0.5% higher
with global Dollar quotes overnight Friday, and
wholesale contracts in Shanghai
also rallied, rising back towards pre-Chinese New Year holiday levels against the Yuan to hold a $6 premium above London bullion.
That's around one-third below the typical incentive for new bullion imports into China, the world's No.1 gold consumer nation.
"Buying is still fairly light" after the Chinese markets re-opened from the key gold-buying Lunar New Year holiday season on Thursday, says today's Asian trading note from Swiss refining and finance group MKS Pamp.
"Silver is drifting lower also."
"Sentiment is weak" in India, Reuters meantime quotes Mukesh Kothari at wholesaler RiddiSiddhi Bullions in Mumbai.
"They can wait for a price correction," said a Mumbai-based dealer with a private bank.
Allowing for India's 10% import duty, gold prices in India's key hub of Ahmedabad have not traded at a premium to London quotes for the last 8 trading days, the longest stretch since October according to data polled by the NCDEX futures exchange.