Gold Jumps vs. Sinking Dollar But Weak Demand for Bars, Comex Leads as India-Pakistan Nuclear Tensions Worsen
Monday, 1/15/2018 14:21
GOLD BAR prices shot to new 4-month highs against the Dollar in wholesale trade on Monday morning in London as the US currency plunged to a 3-year low versus the world's other currencies amid worsening tensions between nuclear states India and Pakistan, write Steffen Grosshauser and Adrian Ash at BullionVault.
With US markets shut for Martin Luther King Day, Asian shares hit historic highs, following Wall Street's new record-high closes on Friday.
But Eurozone equities held flat overall as the single currency hit new 3-year highs against the Dollar, adding 3.5 cents per Euro to the region's export prices since this time last week alone.
After gold rose for a fifth straight week, the Dollar price of large wholesale bars on Monday touched $1344 per ounce, gaining more than $100 since its near 5-month low of mid-December.
Wholesale gold bar prices
measured in Euros briefly touched €1100 before dropping back below last week's close at €1096 per ounce, little changed for 2018 to date.
Latest data show hedge funds and other speculative investors raising their bullish betting on Comex gold futures and options contracts yet again last week.
Growing their bullish bets by 75% over the last month as a group, the Managed Money category of traders has halved its bearish betting from what was a 5-month high according to data released by US regulator the Commodity Futures Trading Commission (CFTC).
Overall that grew the net speculative position of hedge funds and other money managers by 146% between mid-December and last Tuesday, making it one-third larger than the last 10 years' average.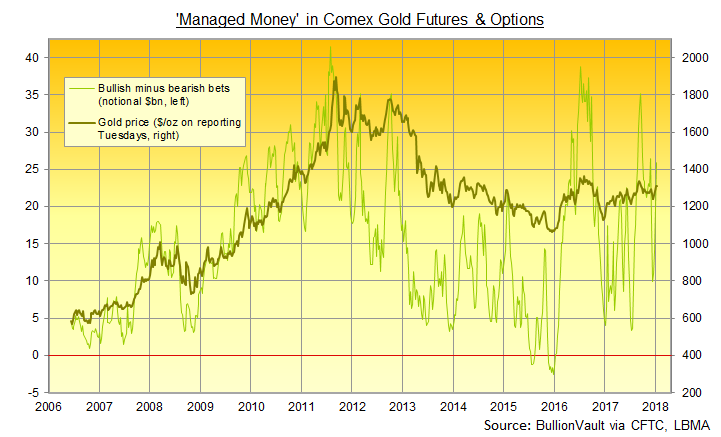 "We are likely to see further short squeezes over the near-term," says the latest Asian trading note from Swiss refiners MKS Pamp, predicting that more traders will be forced to close their bearish bets on Comex futures and options.
"Physical demand out of Asia [in contrast] remained relatively restrained on Monday," MKS says.
With only a month to go before the Lunar New Year holidays, the price of gold bars already landed in China – the No.1 consumer market – today edged up to around $8.40 per ounce above comparable London quotes.
But that held the average Shanghai premium in 2018 so far at just 80% of the typical incentive to new imports.
Amongst physically-backed Western investment products meantime, the giant SPDR Gold Trust (NYSEArca:GLD) shrank 1.6% over the month preceding Friday's close, while the Dollar price of wholesale gold bullion bars rose 6.9%.
"While the weaker Dollar remained gold's primary driver, investors are keeping an eye on the simmering geopolitical hot spot in the Middle East," reckons Stephen Innes, head of FX trading at spread-betting broker Oanda.
US President Donald Trump set an ultimatum to European policy makers this weekend to fix the "terrible flaws" of the nuclear deal between Teheran and the major Western governments, threatening the United States will pull out.
"I am very happy to see that
the White House has failed
to disrupt international obligations," countered Iranian President Hassan Rouhani, noting that Trump has yet to revoke the deal as promised in his electoin campaign of late 2016.
"This means victory of law over dictatorship."
Tensions meantime rose over the disputed Kashmir border after India said it killed 7 soldiers from Pakistan at the weekend, spurring Karachi's
Dawn
newspaper to say that crossing the border
amounts to "an act of war"
between the two nuclear-armed nations.