Gold Bars +2.6% for Week So Far as US Fed Dents Dollar, T-Bond Correlation Grows Ever-Stronger
Thursday, 10/12/2017 13:51
GOLD BARS traded in London's wholesale market rose sharply early Thursday as the Dollar fell on the currency market following 'dovish' comments in the US Federal Reserve's latest policy-meeting notes.
The greenback then rallied and gold slipped to $1292 per ounce after new data showed US producer price inflation beating analyst forecasts for September with a 2.6% annual rate.
Minutes from the Fed's "no change" September meeting said "many participants expressed concern that the low inflation readings this year might...prove more persistent.
Gaining 2.6% from the end of last week, large gold bullion bars touched $1297 per ounce in spot trade on Thursday as the Dollar fell.
Betting on the Fed raising its key interest rate at December's meeting retreated to 81.7% of all speculative positions, according to
data from the CME
.
Down from 87.8% yesterday, that was still more than twice the level of this time last month.
Major government bond yields meantime slipped lower worldwide, led by a retreat to 1-week lows at 2.33% per annum in 10-year US Treasury rates.
Typically moving inversely to US bond yields, gold priced in Dollars is showing an increasingly strong negative relationship with 10-year yields, averaging -0.88 over the last 12 months.
That figure would read -1.00 is the correlation was perfectly inverse and the two moved entirely opposite.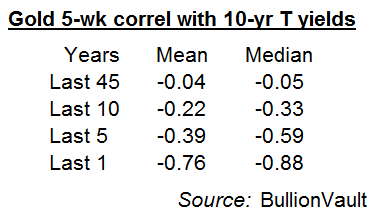 Shanghai prices
for 1-kilo gold bars rose Thursday to the highest since before China's National Day holidays last week, holding the premium over comparable London quotes just shy of $10 per ounce.
That was in line with the average incentive for new bullion bar imports to the No.1 gold mining, importing and consumer nation.
"The market has recovered slightly," says the latest Bullion Weekly Technicals from Germany's Commerzbank, noting that 1296 represents the gold price's high of April and June.
"Gold is [now] likely to struggle on rallies to $1309, the 50% retracement of the last leg down. [But] our longer term bias remains bullish."
Only the Pound fell against the Dollar after the US Fed minutes on Thursday, as UK newspapers reported a split over Brexit preparation plans between Prime Minister Theresa May and her Chancellor Philip Hammond.
Gold bars priced in Sterling jumped near 1-month highs at £987 per ounce, recovering one-third of the last 5 weeks' drop of 8.1%
London's FTSE 250 index of mostly UK-focused companies set fresh all-time record highs, gaining 23% since last year's shock Brexit referendum result.
European stock markets in contrast struggled once more near 5-month highs as the single Eurozone currency touched its highest against the Dollar since 25 September.
Spain's National Day holiday saw both pro- and anti-separatist marches in Catalan capital Barcelona, with reports from the Associated Press of scuffles broken up by police and the burning of a 'Senyera' – the region's unofficial flag – by far-right Francoists.
Given until Monday
to confirm whether or not he has declared independence by the Spanish government in Madrid, Catalan governor Carles
Puigdemont today said
he had offered dialogue but been met only with the threat of losing all Catalonia's current devolved powers.
"Message understood," he tweeted.