Crash Alert (Again)
Saturday, 11/20/2021 10:01
Raising the tattered flag...
We all dutifully assembled for the ceremony...
We pulled the old, tattered, black-and-blue crash flag out of storage, ran it up the pole, and saluted solemnly.
Now, we'll see what happens...
Here are the details on the latest Doom Index reading from our research department:
We created the Doom Index to sound the alarm ahead of the next crisis. It tracks 12 key indicators to detect when there's stress in the economy and markets are overheating.
The chart below shows our Doom Index levels by quarter. The red bars indicate a reading of 8 or higher. That's when we raise our "crash alert" flag and tell investors it's time to prepare for a market crash.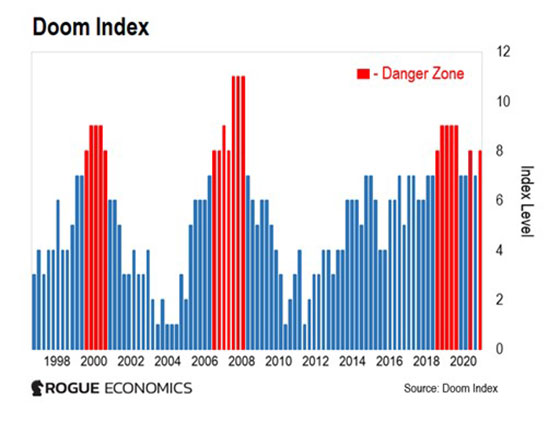 We raised our "crash alert" flag at the end of Q2 2019, when the Doom Index hit 8. We stayed in the "Danger Zone" for the next four quarters.
Economic conditions improved slightly in the second half of 2020, as evidenced by our Doom Index reading dropping to 7 for Q3 2020 and Q4 2020...before shooting back up to 8 – crash alert territory – in Q1 2021...and then dropping back to 7 in Q2 2021.
Our recent Doom Index reading – based on the Q3 2021 data – is 8...
You've been warned, Dear Reader...