China to Top Luxury Spending by 2025
Tuesday, 6/14/2022 09:01
Lockdowns over. Again...
SHANGHAI, the Chinese commercial hub with 26 million residents, just ended its two-month citywide pandemic lockdown, says Frank Holmes at US Global Investors.
That signals that the world's second largest economy may be ready to return to business-as-usual. A reported 90% of stores and restaurants had resumed operations as of last Wednesday, which I believe is very good news for global luxury sales in particular.
As I've pointed out before, the Chinese are big buyers of luxury goods, from high-end jewelry to leather goods to fragrances, and the end of Covid-related lockdowns is expected to bring customers back to in-person shopping experiences.
The SSE Composite Index, which tracks Shanghai-listed stocks, lagged year-to-date through May 31, along with the S&P Global Luxury Index. I believe equites could rise sharply from here, supported by stronger sales due to Covid restrictions being lifted.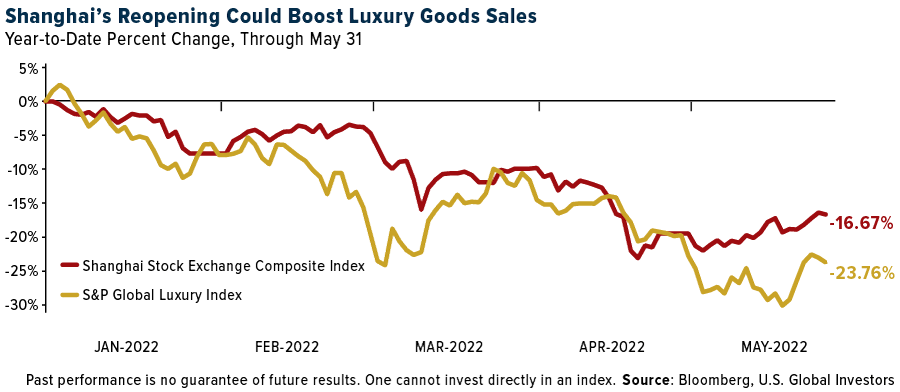 Partly as a result, the China Manufacturing PMI rose to 49.6 from 47.4 in April. Although this is still under the 50.0 threshold separating factory expansion from contraction, the reading exceeded consensus by 0.6 points.
If China's economy continues to reopen and people return to work, I expect June's PMI to be above 50.0, which would bode well for economic growth in general.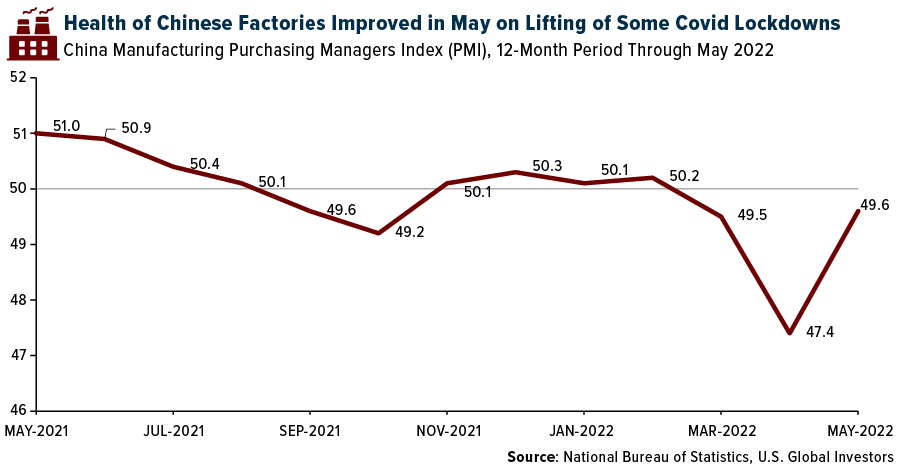 Again, the Chinese love their luxury items. Last year, the country's luxury market recorded double-digit growth from 2020 levels, putting it on pace to become the world's number one luxury market by 2025, according to Bain & Co. Luxury's growth has been closely correlated with the expansion of the middle class as well as China's transition from a manufacturing-based economy to one that is supported by consumption, similar to the US and other Western, high-income countries.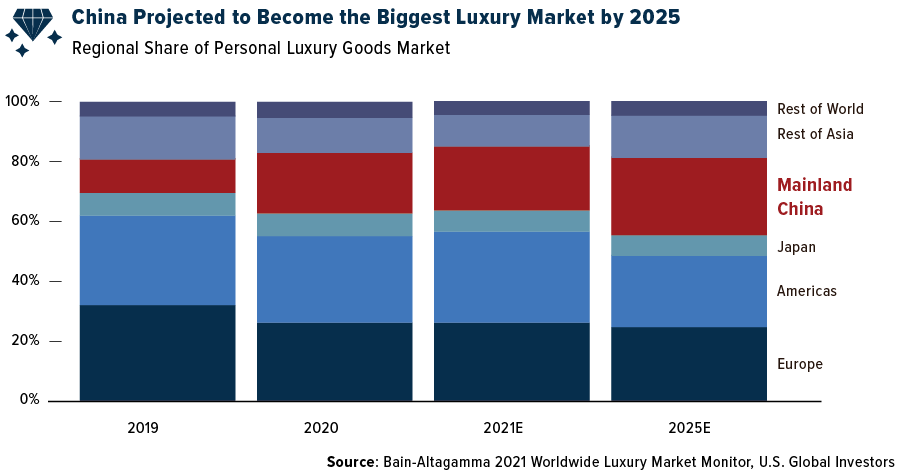 Granted, this projection was made in December 2021, before the latest Covid lockdowns, but the sharp recovery in May's PMI reading tells me that the lockdowns may have little economic impact over time.
With so much growth projected in China's luxury market, now may be the time for investors to consider Chinese equities, luxury stocks or both.