Shopping Riots Go AWOL
Thursday, 11/30/2017 09:01
Your smartphone just killed Black Friday...
WE DIDN'T hear a peep about Black Friday in the news this year, writes Greg Guenther in Addison Wiggin's Daily Reckoning.
No stories of early morning mall riots made the local paper. We saw no tent villages of eager shoppers camped outside of electronics stores offering eye-popping deals on flat screen TVs. And no one was trampled or injured in a stampede at a Walmart entrance as dazed employees unlocked the doors at 5am.
Don't get me wrong – the Great American Shopper is still alive and spending fistfuls of cash. The media has simply grown weary of the Black Friday B.S.
Gone are the days when long lines of shoppers snaking into dimly lit parking lots could score a good headline. The retail narrative has now officially shifted to the online consumer. After all, it's 2017. We live in the future! That means we are all turning into hermit consumers, happily clicking away in our pajamas instead of venturing out during brick and mortar retail's officially designated shopping days.
Online purchases continue to steal a bigger slice of the holiday shopping pie. Black Friday's online sales numbers tell the story:
"American shoppers spent a record $5 billion in 24 hours," CNNMoney reports. "That marks a 16.9% increase in Dollars spent online compared with Black Friday 2016."
Sure, folks still braved the lines at actual stores on Black Friday (foot traffic was only down about 1% across the board). But more people are taking the cyber-shopping route than ever before.
Amazon.com (NASDAQ:AMZN) is the epicenter of this online shopping boom. The company claims its own Black Friday sales broke records with more than 200,000 toys sold during the first five hours of the shopping day. And that doesn't even take Cyber Monday sales into account...
"Cyber Monday is also on track to become the biggest US online shopping day ever, driven by mobile purchasing and the ease of payment services like Apple Pay," Business Insider reports. "Black Friday isn't just a day anymore – it's a whole season."
Thanks to smartphone shopping, the entire idea of a designated shopping day is dying.
Consider these smartphone shopping stats from Adobe:
Phones accounted for a whopping 46% of all retail traffic on Thanksgiving. That's an increase of more than 15% over last year's numbers. While families bickered about politics, football, and Bitcoin over Thanksgiving dinner, your bored cousins were searching for hot deals on their phones.
The result? Black Friday (and Cyber Monday, to some extent) are toast. Consumers are jumping at deals whenever and wherever they want, all thanks to their phones.
"As retailers increasingly spread sales and discounts throughout the month, November has become a shopping extravaganza," Business Insider concludes.
With more than $30 billion in sales so far this month, it's impossible to ignore the online shopping revolution. The brick and mortar retail operations that will survive will be the ones that bulk up their online shopping fulfillment.
In fact, we're already seeing this theme play out. While Amazon shares streak to new highs, WalMart (NYSE:WMT) isn't too far behind. WMT is up nearly 45% year-to-date, thanks in part to its strategic acquisition of online shopping hub Jet.com.
It's Amazon's world – yet there's still a little room left for quality competition. The retail chains that "get it" are even helping to dig the SPDR S&P Retail ETF (NYSE:XRT) out of its 2017 funk.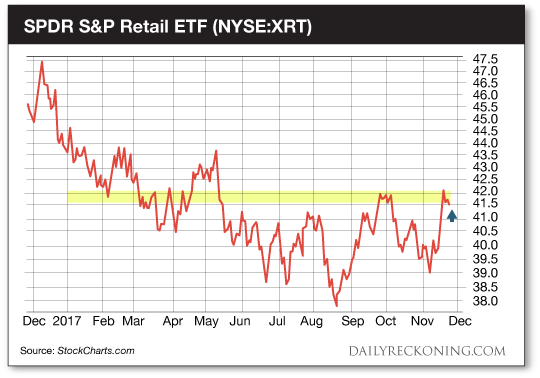 After bottoming out back in the summer, the retail sector is once again working on a choppy comeback. If the sector can turn things around during the busy holiday shopping season, it could develop into one of 2018's most unexpected comeback plays.