AI and Web3: Pick Me!
Friday, 6/30/2023 09:01
Record number of S&P companies just said 'AI' on quarterly earnings calls...
IMAGINE a new digital environment where our data is portable and democratized, challenging the current monopolies, says Frank Holmes at US Global Investors.
Web3 promises to be such an environment, and to understand this shift, it's helpful for investors to consider the evolution of the internet.
The first phase, Web1, offered users unprecedented access to information and connectivity (think AOL, Yahoo! and Google). Then came Web2, which enhanced the experience by allowing personalized, user-generated content to be delivered through apps (think Facebook and Twitter).
As the next iteration, Web3 operates on a global, peer-to-peer infrastructure made possible by blockchain technology. Like Bitcoin, the Web3 network is decentralized, meaning it eliminates intermediaries; no single entity controls it.
At its core, Web3 aims to address data monopoly, privacy risks and algorithmic bias, promoting a more equitable and open internet. We'll see a shift from platform-centric to individual-centric data and identity management, leading to new technologies and business models.
But to truly establish this network, users – both people and machines – need to actively participate. To do this, developers may use tokens (think Ether or Polkadot) to manage activity and record transactions on the blockchain. Other key components of this next-generation ecosystem could also include smart contracts and digital wallets.
Blockchain technology, with its "trustless" systems, has been seen as a remedy for growing mistrust in various traditional institutions. Yet recent failures by crypto-related firms, including FTX and Silvergate, have sparked investor uncertainty in digital assets, casting a shadow over the future of Web3.
Look at the chart below, taken from a recent report by Deloitte. Early-stage investors poured around $94 billion into Web3 companies between 2016 and 2022, most of it in the last two years, with investment peaking at $13 billion in the first quarter of 2022. This corresponds to Bitcoin's plunge in price after hitting its all-time high of nearly $69,000.

However, as Deloitte points out, there are parallels between the slump in digital asset prices and the dotcom crash of the early 2000s. Just as the internet became integral to life and work over time, the transformative potential of Web3 is likely to continue, attracting venture capital and private equity investors.
The buzz around artificial intelligence (AI) has also been growing, and it shows in corporate America. An analysis of earnings conference calls for the first quarter of 2023 reveals a significant uptick in the number of S&P 500 companies discussing AI. During this period, 110 companies mentioned AI, a notable increase from the five-year average of 57 and the 10-year average of 34, according to an analysis by FactSet.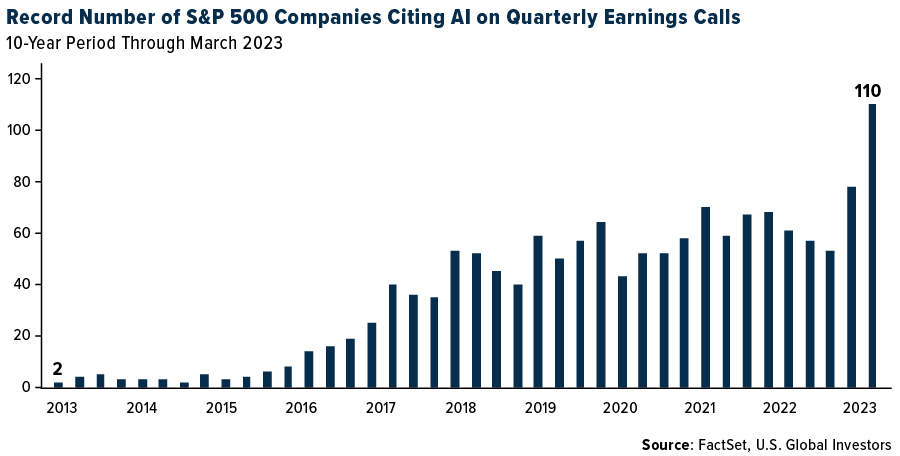 Along those same lines, the development of real-time, 3D virtual applications by companies like Meta, Roblox and Apple is expected to boost spending on AI servers, which are already projected to grow 19% annually through 2032. This is due to increasing demand for generative AI from popular applications such as ChatGPT and Midjourney.
In case you're wondering, "generative AI" refers to applications that can create unique content from simple prompts submitted by users. As I shared with you earlier this year, ChatGPT is the fastest-growing app in history, reaching 100 million users in as little as two months after launch.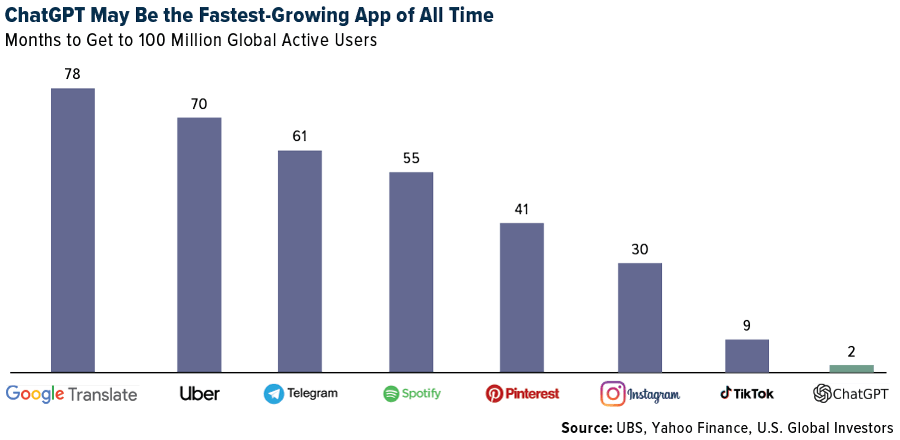 To run efficiently, these metaverse applications will need advanced graphics and AI processors, increasing investments in high-performance AI chips from companies such as NVIDIA and AMD and in data center operators such as HIVE Blockchain Technologies.
According to projections by Bloomberg Intelligence, AI server spending could account for nearly 30% of total workload expenditures by 2032, a significant increase from approximately 15% in 2022.

But what can generative AI be used for in the "real world"?
McKinsey & Co. found 63 such AI uses across 16 business functions, and if applied, they could create between $2.6 and $4.4 trillion in economic benefits on an annual basis. This would add 15% to 40% to the current $11 to $17.7 trillion potential value from non-generative AI and analytics.
Goldman Sachs's projections are even more optimistic. According to the bank, advancements in generative AI could significantly impact the world economy, leading to a 7% rise in global GDP (equivalent to nearly $7 trillion) and a 1.5% increase in productivity growth over a decade.
As one such use case, Amazon Web Services (AWS) just last week announced the launch of the AWS Generative AI Innovation Center, a $100 million initiative aimed at helping customers develop and implement generative AI solutions. This move forms part of the company's broader strategy to expand the accessibility of generative AI to customers and partners worldwide.
Some readers might understandably feel bewildered by all of this, but it's worth remembering that technological cycles have emerged every 10-15 years. Web3, AI and digital assets are no exception.
Granted, widespread adoption of Web3, AI and assets such as Bitcoin won't be easy. The primary roadblock is likely user experience. The process of setting up crypto wallets, for instance, can be complex and demanding, and standard web browsers may not even support Web3 without additional plug-ins.
To encourage mass adoption, Web3 needs to provide a user-friendly interface comparable to the shift from Web1 to the current, more interactive version of the internet. This transition could be led by major tech companies like Meta, which understand the potential benefits of simplifying Web3 for everyday users.
The good news is that people appear to be getting better at adopting new technologies. A 2013 study from MIT's Technology Review confirms this trend. It took telephones half a century to become commonplace in American homes, for instance, whereas smartphones reached 40% penetration in just 10 years.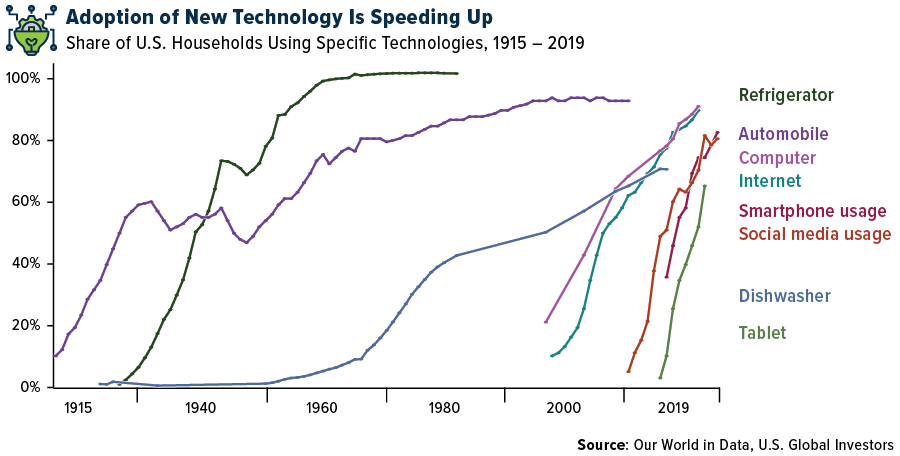 Similarly, I expect things to move fast when it comes to the digital transformation. A survey conducted last summer found that 75% of retailers planned to accept digital currencies as payment within the next two years. Blockchain technology, the backbone of Web3, is anticipated to usher in a new digital era, with a potential global user base of 1 billion by 2031, according to Andreessen Horowitz. (For comparison's sake, the internet reached 1 billion users in 2005.)